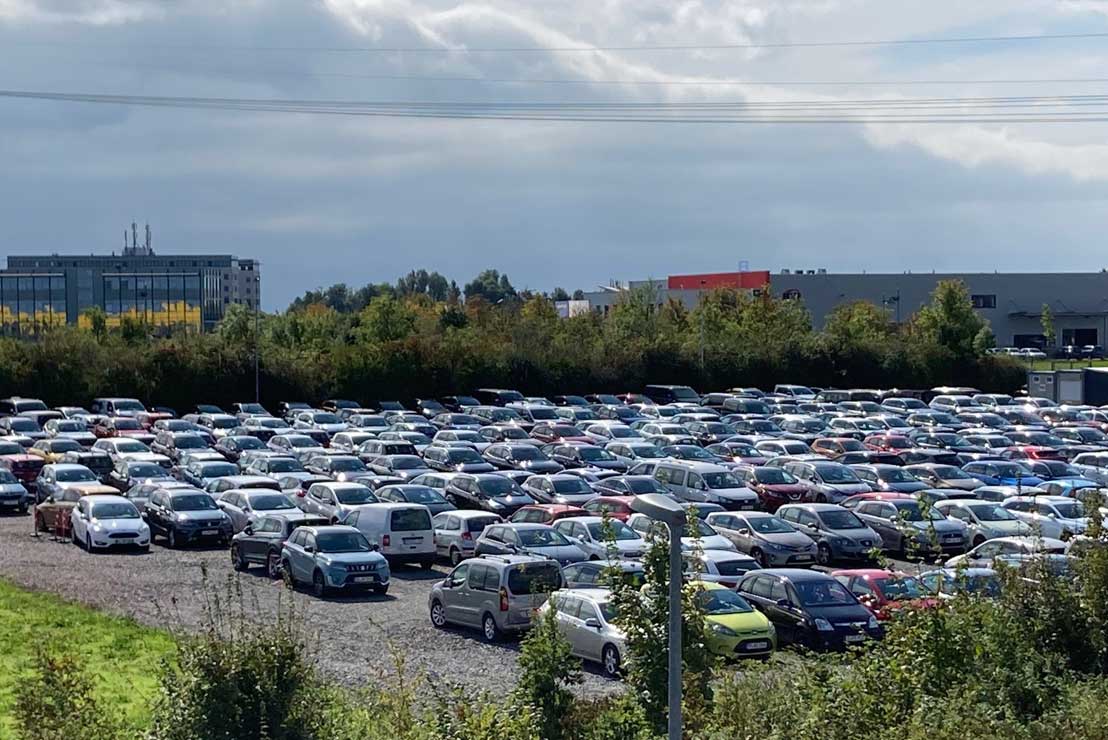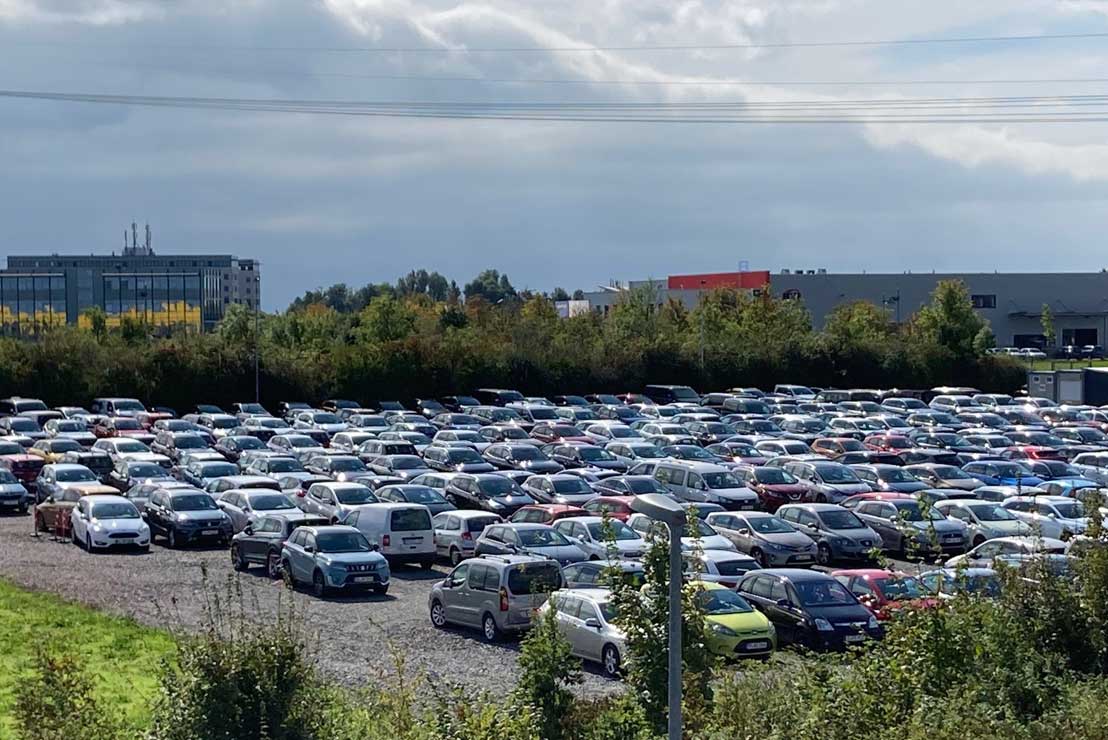 Excellent
thumb_up
4.6

of 5.0
Recommended
people

225

Reviews
Our committment
check

Money-Back Guarantee

check

Verified parking lot

check

Real customer reviews

check

Booking confirmation via mail

check

No registration necessary
---
Availability
| Parking lot | Parking duration | Parking fees | Availability |
| --- | --- | --- | --- |
| Flughafen Parken Leipzig Hardstand parking | help_outline | help_outline | help_outline |
check_circle Lit up parking lots
check_circle 24 hours staffed
check_circle Eingezäunte Parkplätze
check_circle Legal liability insurance
check_circle Shuttle Service included
check_circle For up to 4 travelers included
check_circle Child safety seat available
check_circle Bulky baggage allowed: Ja
info Maximum waiting time: : ~30 Min.
info Transfer Duration: ~07 min.
info Distance: 6.4 km
info From 03:00 AM until the last flight
check_circle Restroom
check_circle Jump start
check_circle Accessibility
Map and route planner – Safely arrive at your destination
---
Newest Reviews for Flughafen Parken Leipzig
format_quote Würden wieder bei Ihnen parken.

Doreen - 11.12.2019
format_quote Wir waren angenehm überrascht

Erika - 10.12.2019
format_quote alles perfekt

Jens - 09.12.2019
format_quote Unsere Urlaubsreise ging nach Madeira. Auf Grund der Wetterbedingungen am Abreisetag, wurde der Flug um einen Tag verschoben. Dazu haben wir den Parkplatzservice informiert. Die Abholung am Flughafen

Wolfgang - 07.12.2019
format_quote sehr gut

Norbert - 06.12.2019
sehr gute Parkmöglichkeit

format_quote Kurze Wartezeiten Tranfer zum Flughafen, freunliches Personal ,sehr gute Telefonische Abprachen

Jens - 05.12.2019
sehr gute Parkmöglichkeit

format_quote ist alles super abgelaufen,kann ich nur empfehlen

Siegfried - 04.12.2019
Gute Erreichbarkeit und perfekter Service

format_quote Alles bestens ! Gerne wieder !

Georg Axel - 02.12.2019
format_quote Rundum zufrieden

Kathrin - 21.11.2019
100% Verified reviews - Real guests!
Only guests which have taken advantage of our service can review it. This guarantees that all our reviews come from real customers. After your return, you will receive an invitation to review our parking service.
Gesamtnote
COM_PLADMIN_NOTE_EXCELLENT
thumb_up
4.6 of 5.0
225 Reviews
Tips by travelers can help you to find the best parking lot Doreen

Rated at 11.12.2019
format_quote Würden wieder bei Ihnen parken. Erika

Rated at 10.12.2019
format_quote Wir waren angenehm überrascht Jens

Rated at 09.12.2019
format_quote alles perfekt Wolfgang

Rated at 07.12.2019
format_quote Unsere Urlaubsreise ging nach Madeira. Auf Grund der Wetterbedingungen am Abreisetag, wurde der Flug um einen Tag verschoben. Dazu haben wir den Parkplatzservice informiert. Die Abholung am Flughafen hat bestens funktioniert. Danke dem Personal! Norbert
"

sehrgute Parkmöglichkeit

"

Rated at 06.12.2019
format_quote sehr gut Jens
"

sehr gute Parkmöglichkeit

"

Rated at 05.12.2019
format_quote Kurze Wartezeiten Tranfer zum Flughafen, freunliches Personal ,sehr gute Telefonische Abprachen Siegfried
"

sehr gute Parkmöglichkeit

"

Rated at 04.12.2019
format_quote ist alles super abgelaufen,kann ich nur empfehlen Georg Axel
"

Gute Erreichbarkeit und perfekter Service

"

Rated at 02.12.2019
format_quote Alles bestens ! Gerne wieder ! Kathrin

Rated at 21.11.2019
format_quote Rundum zufrieden Karsten
"

sehr gute Parkmöglichkeit

"

Rated at 20.11.2019
format_quote Der Mitarbeiter war sehr freundlich, trotzdem. Da ich zur Hinfahrt Stau hatte, hatte er mich noch pünktlich zum Flughafen gefahren. Er war sehr freundlich. Carmen
"

Super Service und nette Fahrer

"

Rated at 20.11.2019
format_quote Alles wunderbar, ohne Wartezeit, super nette Fahrer, besonders Mike. Kommen wieder!! rico

Rated at 20.11.2019
format_quote jederzeit wieder,vielen dank !! bis zum nächsten mal !! Josefa
"

Gute Parkmöglichkeit, nicht weit vom Flughafen

"

Rated at 19.11.2019
format_quote Sehr gerne wieder! Preis-Leistung top! Freundlichkeit Super! Christian
"

Schlechter Service durch unfreundlichen Chef

"

Rated at 13.11.2019
format_quote Chef ließ uns unnötig lange in der Kälte warten und reagierte auf telefonische Nachfrage sehr unfreundlich, zurück war es nicht viel besser - Parkplatz wirkte ungepflegt - da gibt es bessere Alternativen! Dennis
"

Hat alles sehr gut geklappt

"

Rated at 10.11.2019
format_quote Nächstes Mal kümmer ich mich eher um das Parkhaus direkt am Flughafen, aber auch nur aufgrund der Fahrt vom Parkplatz zum Flughafen. Sonst kann ich diesen Parkplatz zu 100% weiter empfehlen, würde ich immer wieder machen. Dani
"

Gute Parkmöglichkeit, netter Service

"

Rated at 09.11.2019
format_quote Super Service Steffen
"

Gute Lage zum Parken am Airport

"

Rated at 05.11.2019
format_quote Parkplatz vom Untergrund renovierungsbedürftig, aber noch ausreichend. Preis-Leistung empfehlenswert Christiana

Rated at 04.11.2019
format_quote Wir haben schon oft Parkplätze dieser Art genutzt, doch dieser war in allen Bereichen mit Abstand der Beste !!! Anett
"

Aufenthalt 23.10.2019-31.10.2019

"

Rated at 02.11.2019
format_quote Also EA ist absolut empfehlungswert sich dort einen Platz anzumieten. Alles bestens! Sandra

Rated at 01.11.2019
format_quote sehr zu empfehlen, nutze ich auf jeden Fall wieder Silke

Rated at 27.10.2019
format_quote gute Parkmöglichkeit, super Service, sehr gute Organisation und nette Fahrer Marcel
"

Gut und zuverlässig Parken

"

Rated at 26.10.2019
format_quote Hat alles prima gekappt. Werde diesen Service wieder nutzen! Bärbel

Rated at 20.10.2019
format_quote Alles Super Ralf

Rated at 17.10.2019
format_quote jeder zeit wieder Lorette

Rated at 17.10.2019
format_quote Wir waren rundum sehr zufrieden! Wir konnten ohne uns Gedanken um unser Auto machen zu müssen in unserem Familienurlaub starten. Bei der Rückreise stand der Shuttlebus bereits am Terminal und wir mussten gar nicht warten- was mit zwei kleinen Kindern nach einer Flugreise immer von Vorteil ist! Helga
"

unkompliziert und sicher parken

"

Rated at 16.10.2019
format_quote super Wilfried
"

Nah zum Flughafen liegender Parkplatz.

"

Rated at 15.10.2019
format_quote Gute Lage. Allerdings vermisse ich eine Kennzeichnung der Plätze zum leichten Auffinden des Fahrzeuges. Bei Regen ist der Platz bestimmt schlecht zu begehen. Mit Rollkoffern ist der Platz nicht benutzbar. Ina
"

Gute und nahe Parkplatzmöglichkeit

"

Rated at 15.10.2019
format_quote Ein wirklich guter Service. Schnell, einfach und komplikationslos Maurice

Rated at 08.10.2019
format_quote Sehr guter Service Andreas

Rated at 05.10.2019
format_quote Sehr guter Service und sehr nettes Personal sehr gute Parkmöglichkeit