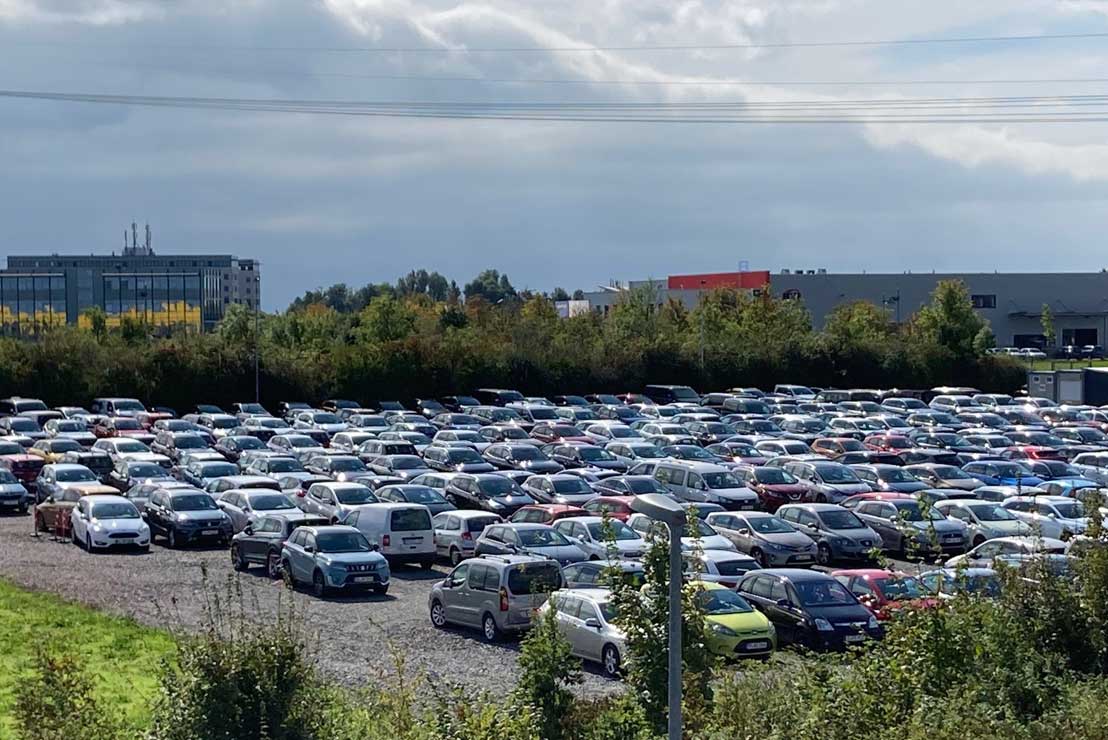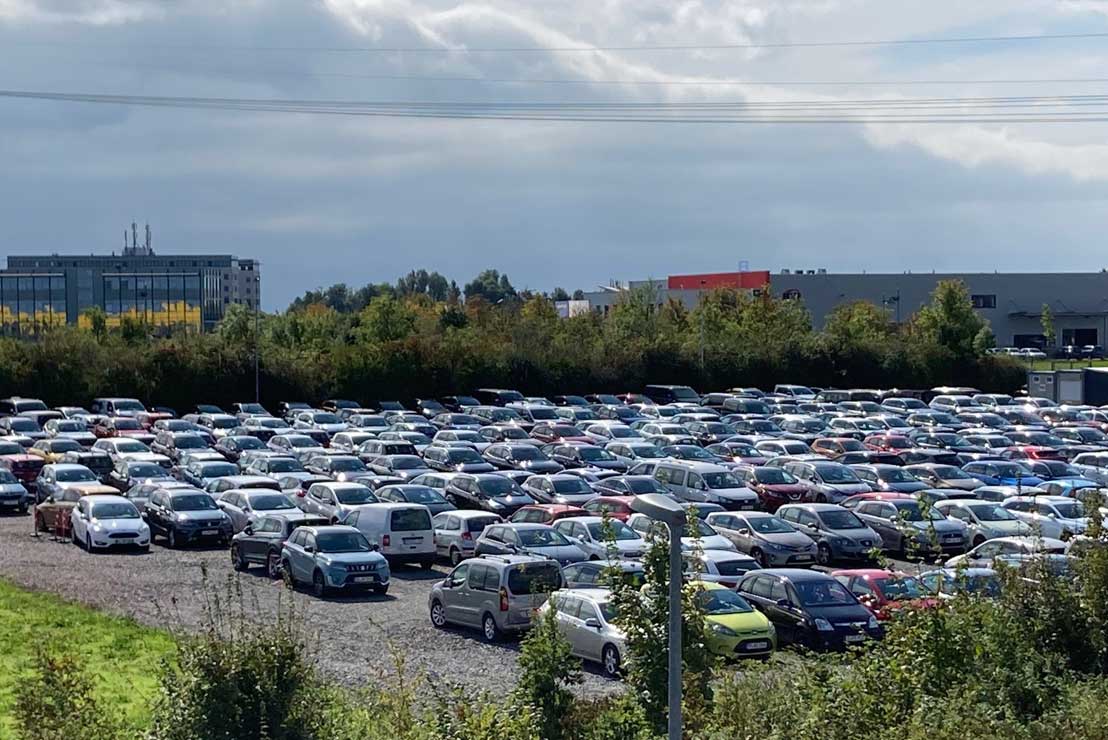 Excellent
thumb_up
4.5

of 5.0
Recommended
people

59

Reviews
Our committment
check

Money-Back Guarantee

check

Verified parking lot

check

Real customer reviews

check

Booking confirmation via mail

check

No registration necessary
---
Availability
| Parking lot | Parking duration | Parking fees | Availability |
| --- | --- | --- | --- |
| Flughafen Parken Leipzig Hardstand parking | help_outline | help_outline | help_outline |
check_circle Lit up parking lots
check_circle 24 hours staffed
check_circle Eingezäunte Parkplätze
check_circle Legal liability insurance
check_circle Shuttle Service included
check_circle For up to 8 travelers included
check_circle Child safety seat available
check_circle Bulky baggage allowed: Ja
info Maximum waiting time: : ~30 Min.
info Transfer Duration: ~07 min.
info Distance: 6.4 km
info From 03:00 AM until the last flight
check_circle Restroom
check_circle Jump start
check_circle Accessibility
Map and route planner – Safely arrive at your destination
---
Newest Reviews for Flughafen Parken Leipzig
Super Parkmöglichkeit, top Preis-/Leistungsverhältnis

format_quote Günstige Anfahrt, Nähe Autobahn, kurzer Shuttelweg, sehr nette hilfsbereite Fahrer, gerne wieder

Ines - 24.05.2018
format_quote Alles prima!

Kai - 22.05.2018
format_quote Sehr guter Abhol service , pünktlich da , mit dem Auto war alles in Ordnung

Kirstin - 18.05.2018
format_quote gut

Gunter - 16.05.2018
format_quote Immer wieder gern

Michaela - 14.05.2018
format_quote Rund um zufrieden

Hartmut - 12.05.2018
format_quote Schnelle, zügige und korrekte Abwicklung. Pünktlicher Transfer, Gute Parkmöglichkeit

Rolf- Dieter - 08.05.2018
format_quote Jeder Zeit gerne wieder mit Ihrem Team!!!

Ellen - 08.05.2018
Gute Parkplatzalternative am Airport LE

format_quote Wie man es sich wünscht, keine Wartezeiten zum Transfer,

Uwe - 06.05.2018
100% Verified reviews - Real guests!
Only guests which have taken advantage of our service can review it. This guarantees that all our reviews come from real customers. After your return, you will receive an invitation to review our parking service.
Gesamtnote
COM_PLADMIN_NOTE_EXCELLENT
thumb_up
4.5 of 5.0
59 Reviews
Tips by travelers can help you to find the best parking lot Ines
"

Super Parkmöglichkeit, top Preis-/Leistungsverhältnis

"

Rated at 24.05.2018
format_quote Günstige Anfahrt, Nähe Autobahn, kurzer Shuttelweg, sehr nette hilfsbereite Fahrer, gerne wieder Kai

Rated at 22.05.2018
format_quote Alles prima! Kirstin

Rated at 18.05.2018
format_quote Sehr guter Abhol service , pünktlich da , mit dem Auto war alles in Ordnung Gunter

Rated at 16.05.2018
format_quote gut Michaela

Rated at 14.05.2018
format_quote Immer wieder gern Hartmut

Rated at 12.05.2018
format_quote Rund um zufrieden Rolf- Dieter

Rated at 08.05.2018
format_quote Schnelle, zügige und korrekte Abwicklung. Pünktlicher Transfer, Gute Parkmöglichkeit Ellen

Rated at 08.05.2018
format_quote Jeder Zeit gerne wieder mit Ihrem Team!!! Uwe
"

Gute Parkplatzalternative am Airport LE

"

Rated at 06.05.2018
format_quote Wie man es sich wünscht, keine Wartezeiten zum Transfer, Karl-Heinz

Rated at 17.04.2018
format_quote Bei Ankunft am Parkplatz keine Ansprechperson anwesend, erst nach einiger Wartezeit kam der Shuttlefahrer Hans-Georg

Rated at 18.12.2017
format_quote Sehr guter Service Anja

Rated at 13.10.2017
format_quote Wartezeiten halten sich kurz. Tina

Rated at 04.09.2017
format_quote Jeder Zeit wieder Manuela
"

Perfekte Organisation zum fairen Preis!!

"

Rated at 09.08.2017
format_quote Alles bestens..gerne wieder!!! Vielen Dank!! Jens
"

Parken Flughafen Leipzig

"

Rated at 06.08.2017
format_quote gut Gisela

Rated at 28.05.2017
format_quote Das nächste Mal wieder gebucht. Anja
"

Schneller Shuttle-Service

"

Rated at 20.05.2017
format_quote Parplatz und Shuttleservice an sich in Ordnung. Leider kein Büro vor Ort und auch keine Toiletten. Jürgen
"

Gute Parkmöglichkeit mit kurzer Transferzeit

"

Rated at 04.02.2017
format_quote Es hat alles bestens funktioniert, wir kommen gerne wieder Martina
"

gute Parkmöglichkeit unweit des Flughafens

"

Rated at 04.12.2016
format_quote absolut reibungsloser Ablauf, hervorragender Start in einen entspannten Urlaub Norbert
"

besser kann man nicht parken

"

Rated at 25.10.2016
format_quote Shuttle Service ist bei uns super gelaufen. Kaum Wartezeit und sehr nette Fahrerin/Fahrer Jana
"

Gutes Preis Leistungsverhältnis.

"

Rated at 11.10.2016
format_quote Immer wieder. Simone
"

sehr gute Parkmöglichkeit

"

Rated at 11.10.2016
format_quote Buchung, Parken, Abholung alles es hat problemlos funktioniert Marita

Rated at 02.10.2016
format_quote Unsere Erwartungen wurden rundum erfüllt! Mike
"

Parken am Flughafen Leipzig

"

Rated at 29.09.2016
format_quote Teilweise sehr enge Parkmöglichkeiten und relativ lange Wartezeit bei der Flughafen Abholung. Ansonsten aber sehr freundliches Personal und vom Ablauf hat alles bestens geklappt Kersten
"

Gute Parkmöglichkeit in Nähe des Flughafen Leipzig

"

Rated at 27.09.2016
format_quote Guter Parkplatz zur Weiterempfehlung, zum Wartebereich und zur Barrierefreiheit kann keine Bewertung erfolgen, da diese Bereiche bei Ankunft (Sonntag) nicht benutzt wurden, da der Fahrer gerade unterwegs war. Transferzeit ist sehr kurz. Pluspunkt ist, dass nicht die Autobahn benutzt wird, somit wird jeder eventueller Stau umgangen und die pünkliche Ankunft am Flughafen ist gewährleistet. Die Abholung verläuft ebenfalls reibungslos. Nach Kofferempfang war der Shuttle bereits am Treffpunkt. Joß-Thilo

Rated at 26.09.2016
format_quote Parkplatz mit gutem Preis-Leistungsverhältnis anja

Rated at 21.09.2016
format_quote Ohne Probleme hat alles gekappt Katrin

Rated at 12.09.2016
format_quote Jederzeit wieder! Stefan

Rated at 12.09.2016
format_quote würde ich wieder so machen Marga
"

gute Parkmöglichkeit, leicht zu finden

"

Rated at 10.09.2016
format_quote waren sehr zufrieden