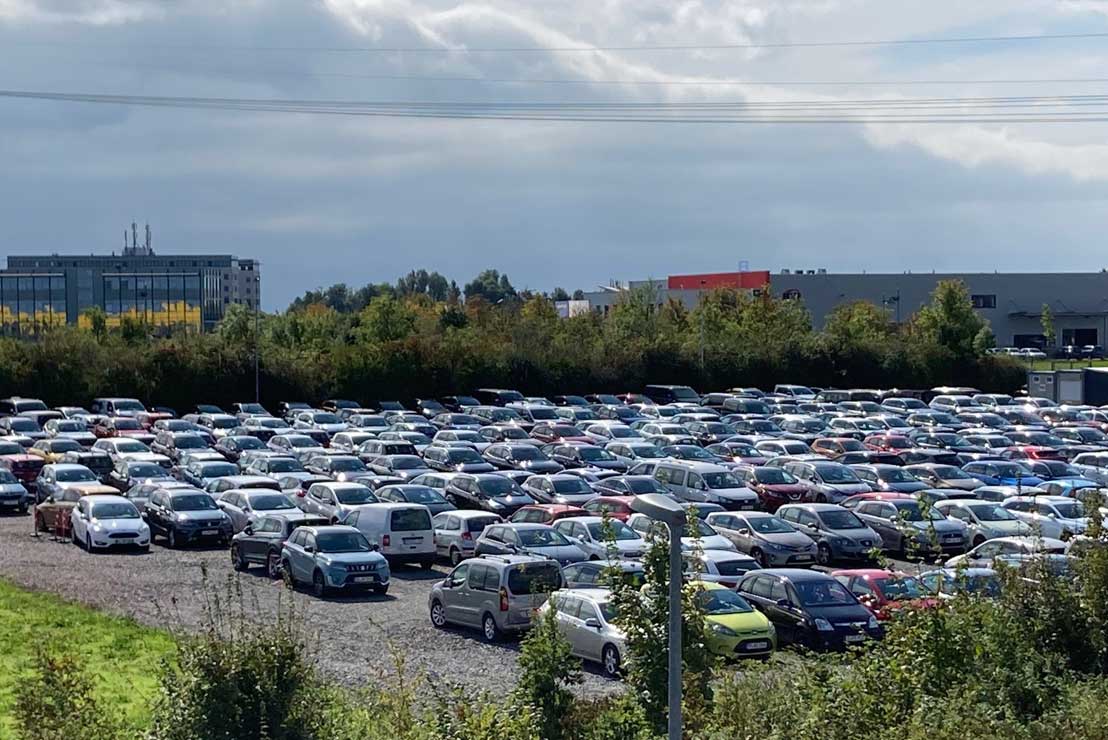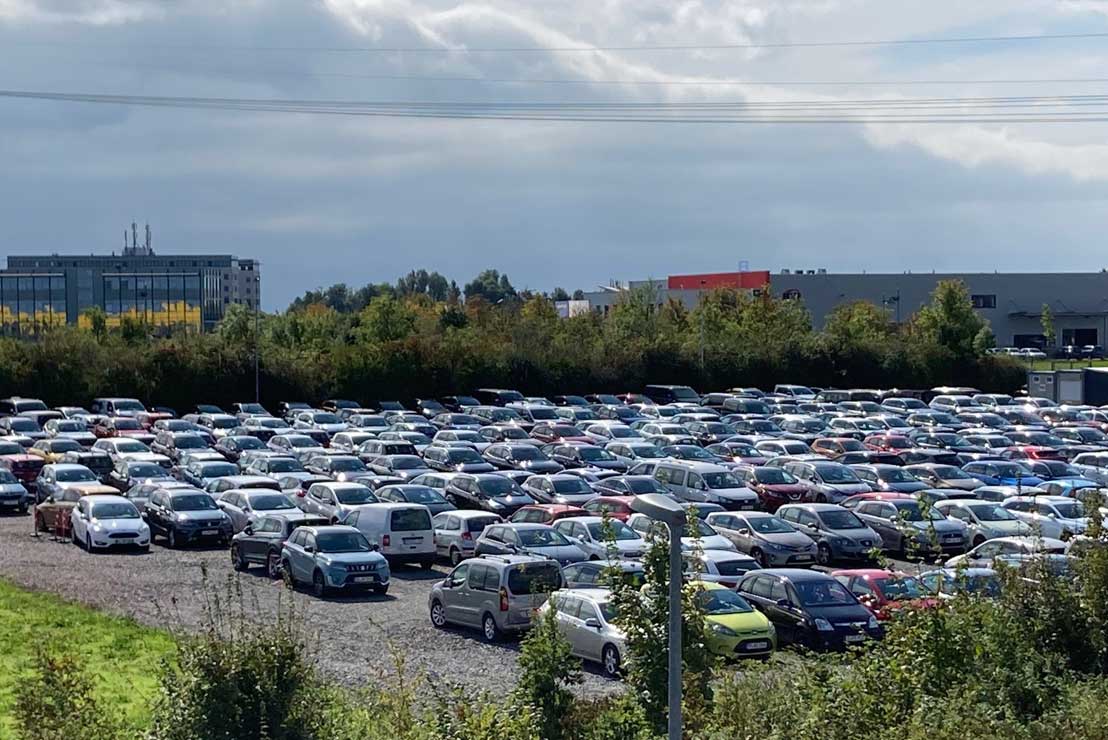 Very good
thumb_up
4.5

of 5.0
Recommended
people

109

Reviews
Our committment
check

Money-Back Guarantee

check

Verified parking lot

check

Real customer reviews

check

Booking confirmation via mail

check

No registration necessary
---
Availability
| Parking lot | Parking duration | Parking fees | Availability |
| --- | --- | --- | --- |
| Flughafen Parken Leipzig Hardstand parking | help_outline | help_outline | help_outline |
check_circle Lit up parking lots
check_circle 24 hours staffed
check_circle Eingezäunte Parkplätze
check_circle Legal liability insurance
check_circle Shuttle Service included
check_circle For up to 8 travelers included
check_circle Child safety seat available
check_circle Bulky baggage allowed: Ja
info Maximum waiting time: : ~30 Min.
info Transfer Duration: ~07 min.
info Distance: 6.4 km
info From 03:00 AM until the last flight
check_circle Restroom
check_circle Jump start
check_circle Accessibility
Map and route planner – Safely arrive at your destination
---
Newest Reviews for Flughafen Parken Leipzig
Gute Parkmöglichkeit, schneller Shuttleservice, reibungslos und sicher!

format_quote Empfehlenswert!

Rüdiger - 07.11.2018
Zuverlässige Parkmöglichkeit

format_quote Unkompliziertes buchen zu einem fairen Preis in flughafennähe

Marc - 05.11.2018
format_quote Ich würde immer wieder da buchen.

Rene - 22.10.2018
format_quote Weiter so.

Annett - 21.10.2018
gute und nahe Parkmöglichkeit beim Flughafen Leipzig

format_quote Fahrer bei "Check-in" sehr freundlich, gute Einweisung, da Parkplatz etwas vom Ankunftsort entfernt, der Fahrer beim "Check-Out" hat uns nur abgesetzt und ist sofort wieder weggefahren, musste im Dun

Anyke - 16.10.2018
format_quote Würden wir immer wieder buchen

Henry - 18.09.2018
format_quote Super Parkplatz freundliche Fahrer alles Top

Simone - 17.09.2018
format_quote Es war alles gut.

Boshidar - 16.09.2018
format_quote Alles super gerne wieder!!

Rene - 16.09.2018
100% Verified reviews - Real guests!
Only guests which have taken advantage of our service can review it. This guarantees that all our reviews come from real customers. After your return, you will receive an invitation to review our parking service.
Gesamtnote
COM_PLADMIN_NOTE_VERY_GOOD
thumb_up
4.5 of 5.0
109 Reviews
Tips by travelers can help you to find the best parking lot Rüdiger
"

Gute Parkmöglichkeit, schneller Shuttleservice, reibungslos und sicher!

"

Rated at 07.11.2018
format_quote Empfehlenswert! Marc
"

Zuverlässige Parkmöglichkeit

"

Rated at 05.11.2018
format_quote Unkompliziertes buchen zu einem fairen Preis in flughafennähe Rene

Rated at 22.10.2018
format_quote Ich würde immer wieder da buchen. Annett

Rated at 21.10.2018
format_quote Weiter so. Anyke
"

gute und nahe Parkmöglichkeit beim Flughafen Leipzig

"

Rated at 16.10.2018
format_quote Fahrer bei "Check-in" sehr freundlich, gute Einweisung, da Parkplatz etwas vom Ankunftsort entfernt, der Fahrer beim "Check-Out" hat uns nur abgesetzt und ist sofort wieder weggefahren, musste im Dunkeln zum Parkplatz laufen, um das Auto zu holen, eine Reklamation, die zum Glück nicht nötig war, wäre nicht möglich gewesen, da 1.) Parkplatz so dunkel, dass man Auto nicht kontrollieren konnte und 2.) Fahrer nicht mehr da war Henry

Rated at 18.09.2018
format_quote Würden wir immer wieder buchen Simone

Rated at 17.09.2018
format_quote Super Parkplatz freundliche Fahrer alles Top Boshidar

Rated at 16.09.2018
format_quote Es war alles gut. Rene

Rated at 16.09.2018
format_quote Alles super gerne wieder!! Andrea

Rated at 16.09.2018
format_quote Hat alles super geklappt. Gabriele

Rated at 13.09.2018
format_quote alles ok Anika
"

Gute Parkmöglichkeit während des Urlaubs

"

Rated at 12.09.2018
format_quote Gutes Preis/Leistungsverhältnis Anja
"

Netter Service, angenehmes Parken

"

Rated at 09.09.2018
format_quote Immer wieder gern ! Wolfgang

Rated at 03.09.2018
format_quote Bestens! Steffen

Rated at 03.09.2018
format_quote Transfer zum Flughafen klappt super. Auto war sicher untergebracht. 1-2 Lampen würden dem Parkplatz aber nicht schaden) Ivonne

Rated at 02.09.2018
format_quote alles gut geklappt Dominik

Rated at 31.08.2018
format_quote zufrieden Thomas

Rated at 30.08.2018
format_quote Alles ok Ralf
"

schneller Transfer und günstig

"

Rated at 24.07.2018
format_quote Vollkommen ausreichend Bernd

Rated at 23.07.2018
format_quote würde immer wieder dort Parken Romy
"

Gute Parkmöglichkeit, guter Service

"

Rated at 22.07.2018
format_quote Buchen wir gern wieder! Nico

Rated at 22.07.2018
format_quote sehr zu empfehlen Lutz
"

günstigere Parkmöglichkeit

"

Rated at 20.07.2018
format_quote Eine an sich gute Parkmöglichkeit zu akzeptablen Preisen mit Verbesserungspotenzial. Der Fahrer beim Transfer zum Flughafen war exzellent, Info, Sicherheit, Fahrverhalten! Leider war das auf der Rücktour nicht so, redet schlecht über Kunden, offeriert Fehler des Unternehmens, fuhr bei vorgeschriebenen Tempo von 70km/h etwas über 100 km/h, es wurden mehr Personen mitgenommen als Gurte vorhanden waren!!! Statt einer exzellenten Bewertung des Fahrers deswegen nur 3 Sterne (2,5)!! Schade! Cindy

Rated at 18.07.2018
format_quote Alles in Ordnung, sehr günstig, zuverlässiger Transfer, alles in Ordnung Andrea
"

Gute Parkplatzmöglichkeit zu fairen Preisen

"

Rated at 17.07.2018
format_quote Wunderbare Alternative Jana
"

Super Service. Gerne wieder!!

"

Rated at 17.07.2018
format_quote Alles topp Sven

Rated at 16.07.2018
format_quote Hat alles geklappt Michael
"

Gute Parkmöglichkeit in Flughafennähe

"

Rated at 12.07.2018
format_quote keine lange Wartezeit Peggy
"

guter Parkplatz in Flughafennähe

"

Rated at 11.07.2018
format_quote alles bestens Dimo

Rated at 09.07.2018
format_quote gut und schnell