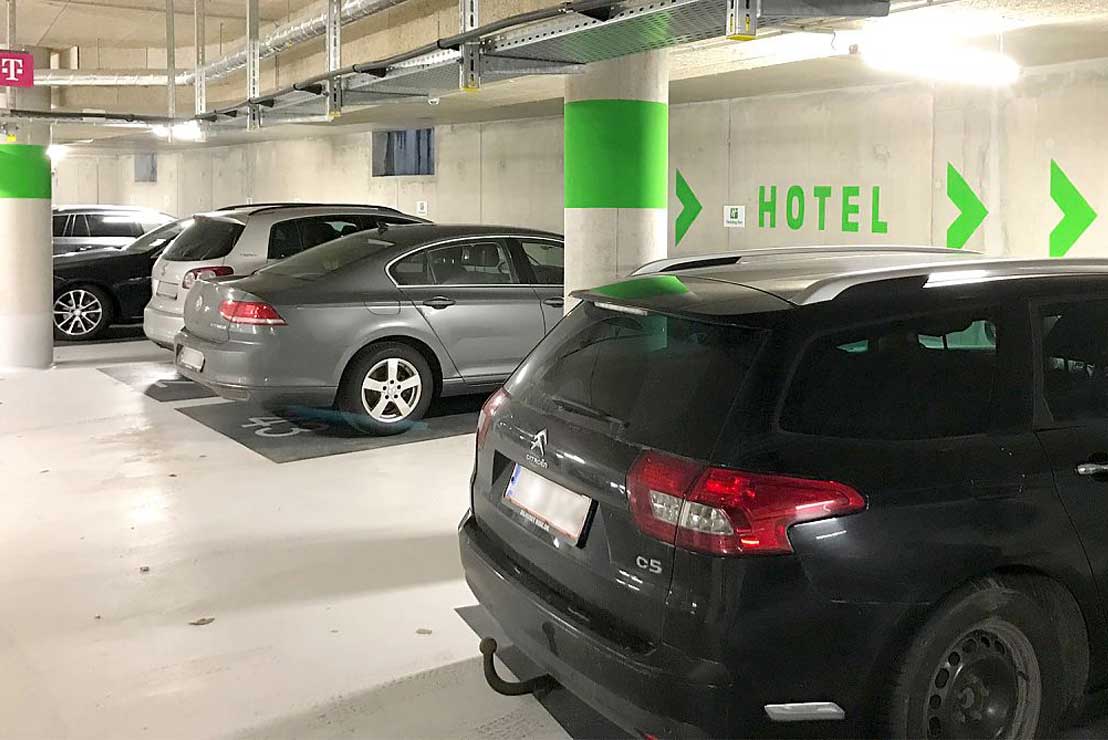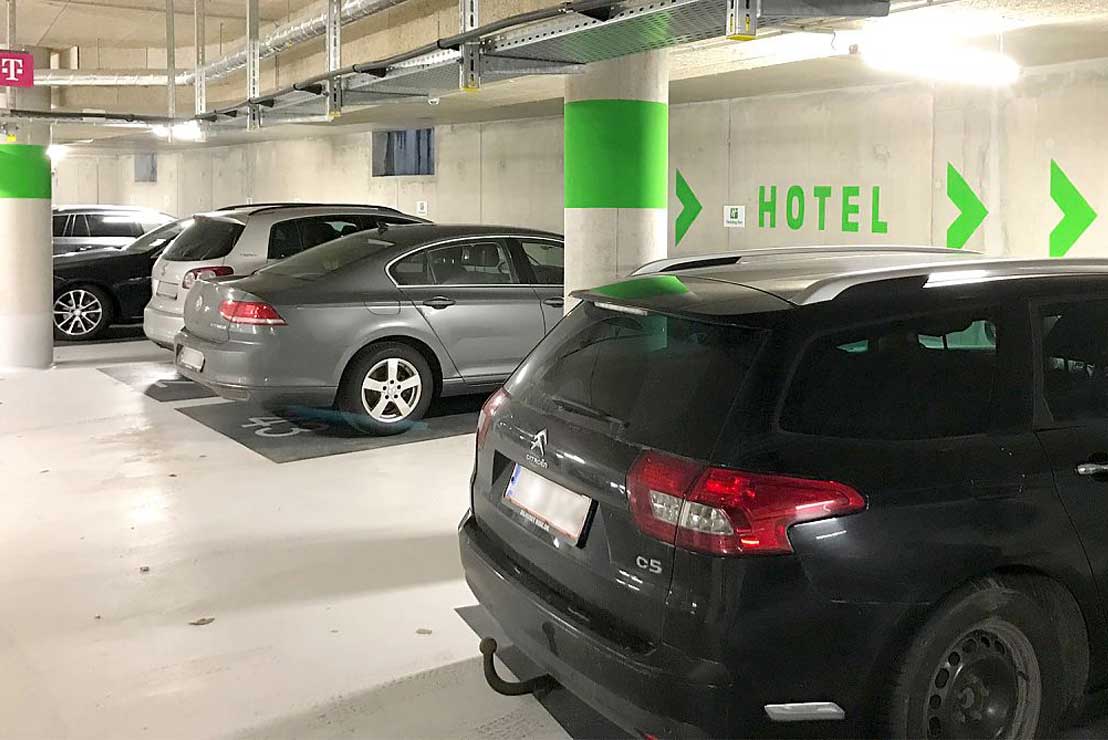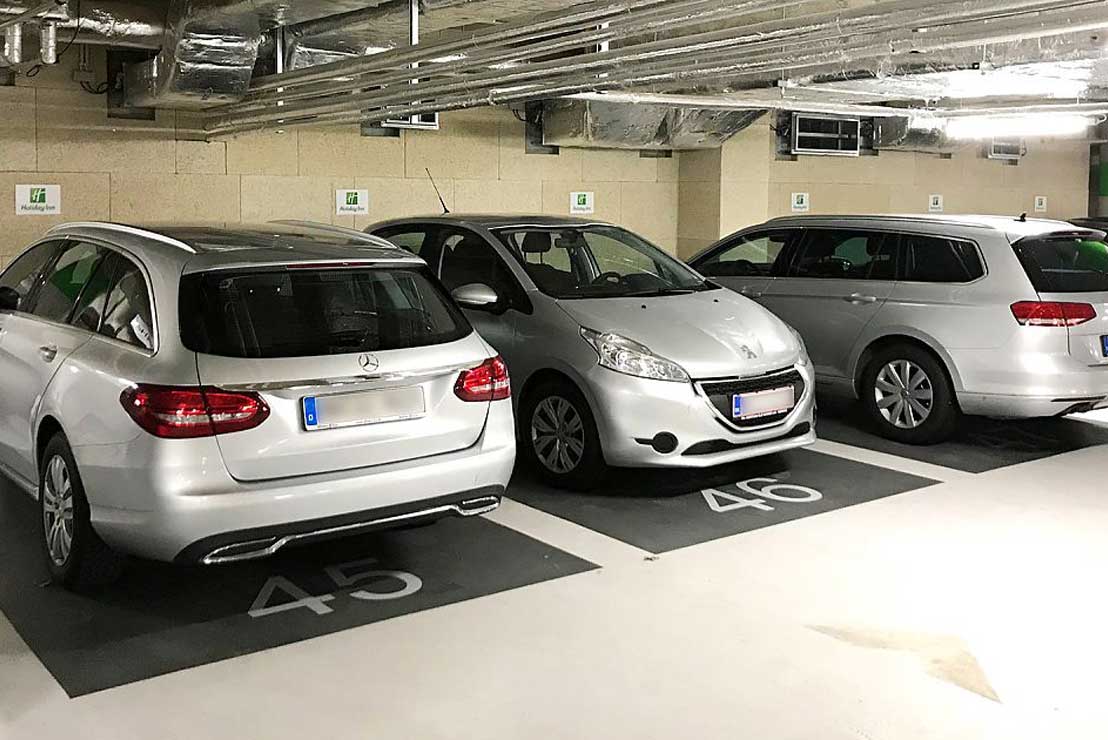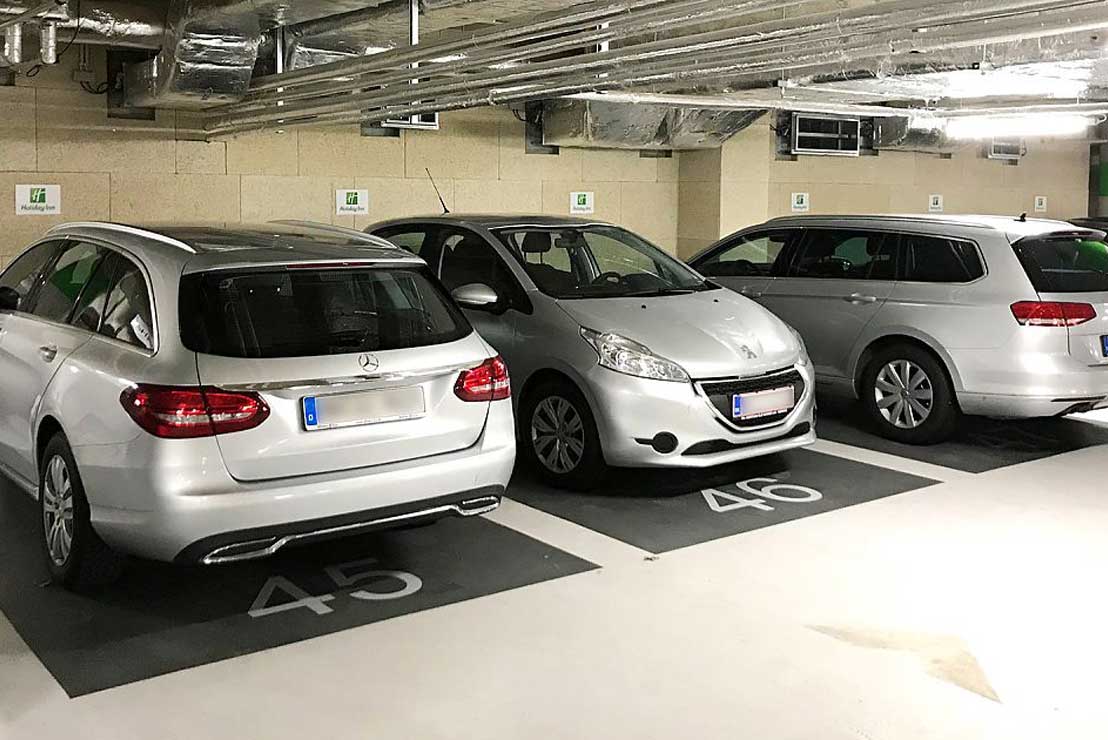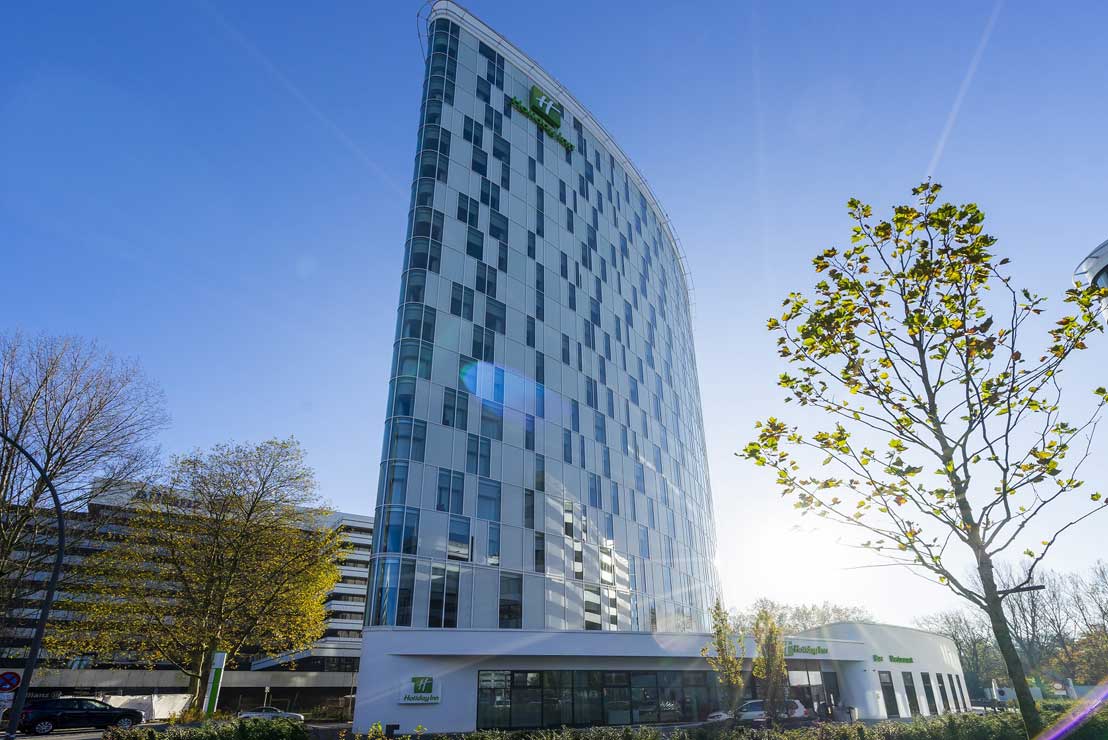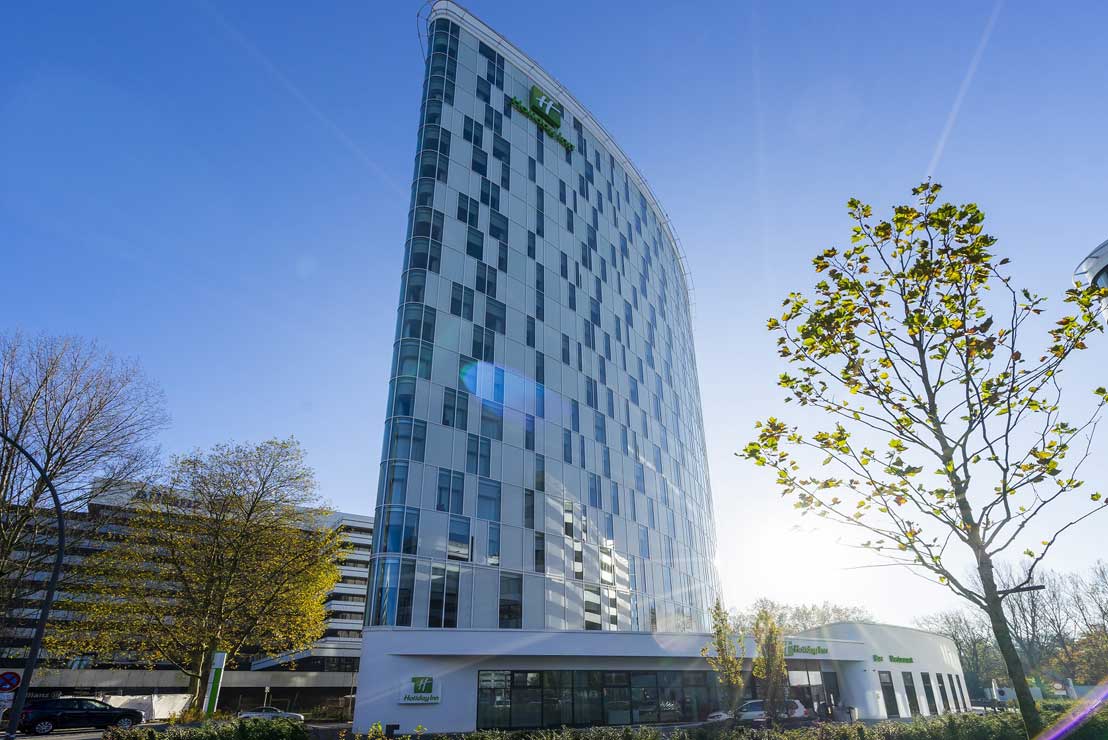 Excellent
thumb_up
4.9

of 5.0
Recommended
people

235

Reviews
Our committment
check

Money-Back Guarantee

check

Verified parking lot

check

Real customer reviews

check

Booking confirmation via mail

check

No registration necessary
---
Availability
| Parking lot | Parking duration | Parking fees | Availability |
| --- | --- | --- | --- |
| Holiday Inn Hamburg - City Nord Underground parking | help_outline | help_outline | help_outline |
check_circle Lit up parking lots
check_circle Parking barrier
check_circle 24 hours staffed
check_circle Legal liability insurance
check_circle Shuttle Service included
check_circle For up to 7 travelers included
check_circle Child safety seat available
check_circle Bulky baggage allowed: Ja
info Maximum waiting time: : ~30 Min.
info Transfer Duration: ~10 min.
info Distance: 4.6 km
info From 05:00 AM bis 01:00 Uhr
check_circle Waiting room
check_circle Changing room
check_circle Restroom
Map and route planner – Safely arrive at your destination
---
Newest Reviews for Holiday Inn Hamburg - City Nord
Gute Parkplatzmöglichkeit

format_quote Erstklassig

Ute - 16.03.2020
format_quote Sehr guter Service. Auf jeden Fall weiterzuempfehlen.

Birgit - 15.03.2020
format_quote Immer wieder unser Parkhaus bei Reisen. Der Wagen steht sicher und die Strecke zum Flughafen mit dem Moia ist in 10 min gefahren. Perfekt!

Stephanie - 09.03.2020
format_quote Alles, was man von einem guten Parkplatz mit Shuttleservice zum Flughafen erwartet wurde vorbildlich erfüllt - sauberer Parkplatz, Service wie WC, freundliches kompetentes Personal und kurze Wartezei

Birgit - 26.02.2020
Sehr guter Service, 100% empfehlenswert

format_quote Schon mehrfach gebucht, immer sehr zufrieden

Dirk - 25.02.2020
Sichere Parkmöglichkeiten

format_quote Wir haben schon das zweite mal unser Auto dort untergebracht. Es steht trocken und sicher. Der Weg zum Flughafen ist kurz, das Personal freundlich und man kann sich darauf verlassen, seinen Flug beque

Stefanie - 24.02.2020
format_quote Alles bestens, so soll es sein

Hauke - 23.02.2020
Excellentes Parken in Tiefgarage mit kostenloser Ladesäule

format_quote Sicheres Parken in einer Tiefgarage. Zusätzlich Möglichkeit E-Auto kostenlos zu laden.

Oliver - 15.02.2020
format_quote Alles zufriedenstellend

Fotios - 14.02.2020
100% Verified reviews - Real guests!
Only guests which have taken advantage of our service can review it. This guarantees that all our reviews come from real customers. After your return, you will receive an invitation to review our parking service.
Gesamtnote
COM_PLADMIN_NOTE_EXCELLENT
thumb_up
4.9 of 5.0
235 Reviews
Tips by travelers can help you to find the best parking lot Ute
"

Gute Parkplatzmöglichkeit

"

Rated at 16.03.2020
format_quote Erstklassig Birgit

Rated at 15.03.2020
format_quote Sehr guter Service. Auf jeden Fall weiterzuempfehlen. Stephanie

Rated at 09.03.2020
format_quote Immer wieder unser Parkhaus bei Reisen. Der Wagen steht sicher und die Strecke zum Flughafen mit dem Moia ist in 10 min gefahren. Perfekt! Birgit
"

Perfekte Unterbringung

"

Rated at 26.02.2020
format_quote Alles, was man von einem guten Parkplatz mit Shuttleservice zum Flughafen erwartet wurde vorbildlich erfüllt - sauberer Parkplatz, Service wie WC, freundliches kompetentes Personal und kurze Wartezeiten ?‍♀️ Dirk
"

Sehr guter Service, 100% empfehlenswert

"

Rated at 25.02.2020
format_quote Schon mehrfach gebucht, immer sehr zufrieden Stefanie
"

Sichere Parkmöglichkeiten

"

Rated at 24.02.2020
format_quote Wir haben schon das zweite mal unser Auto dort untergebracht. Es steht trocken und sicher. Der Weg zum Flughafen ist kurz, das Personal freundlich und man kann sich darauf verlassen, seinen Flug bequem zu erreichen. Auch zurück lief alles reibungslos Hauke

Rated at 23.02.2020
format_quote Alles bestens, so soll es sein Oliver
"

Excellentes Parken in Tiefgarage mit kostenloser Ladesäule

"

Rated at 15.02.2020
format_quote Sicheres Parken in einer Tiefgarage. Zusätzlich Möglichkeit E-Auto kostenlos zu laden. Fotios

Rated at 14.02.2020
format_quote Alles zufriedenstellend Morten
"

Great & easy parking and shuttlebus

"

Rated at 14.02.2020
format_quote 6 Yvonne
"

Supergute Parkmöglichkeit. Überdacht, sauber und Toiletten nach langer Anreise. Perfekter Shuttleservice.

"

Rated at 10.02.2020
format_quote Top Parkplatz, Top Shuttleservice. Ich kann das zu 100 Prozent weiterempfehlen. Dennis

Rated at 06.02.2020
format_quote Jederzeit wieder - hat mir gut gefallen! Klaus-Peter
"

Gute Parkmöglichkeit für HAM

"

Rated at 02.02.2020
format_quote Gerne wieder Fotios
"

Sehr gute Parkmöglichkeit und Top Service

"

Rated at 30.01.2020
format_quote Einfach gut und weiterzuempfehlen Ralf-Peter

Rated at 28.01.2020
format_quote Super Horst

Rated at 27.01.2020
format_quote Eine tolle Parkmöglichkeit mit super Transport Petra
"

Sehr gute Parkmöglichkeiten

"

Rated at 23.01.2020
format_quote Würden wir wieder buchen.preis/leistung top Andreas

Rated at 16.01.2020
format_quote Top Service udn guter Parkplatz. Freundliches Personal am Empfang. Der Transfer zum Flughafen über Moja hat hervorragend geklappt und war im Parkticket inbegriffen. Preis Leistung haben für mich gestimmt. Immer wieder. Anette
"

Hat alles super geklappt ! Top

"

Rated at 05.01.2020
format_quote Alles super Ursula
"

Nah am Flughafen und Komfortabel

"

Rated at 05.01.2020
format_quote Es hat wirklich alles gut geklappt und unser Auto hat sicher in der Tiefgarage geparkt!! Angelika
"

Gute Parkmöglichkeit im Holiday Inn , sehr nettes Personal ,sehr hilfsbereit

"

Rated at 04.01.2020
format_quote Würde ich jederzeit wieder so buchen , der Fahrer auf der Hinfahrt war um einiges netter , als der auf der Rückfahrt Dirk
"

Sehr gute Parkmöglichkeit

"

Rated at 03.01.2020
format_quote Gern immer wieder unsere Wahl Thomas

Rated at 01.01.2020
format_quote Immer wieder gerne Jonas
"

Perfekter Parkplatz in Flughafennähe

"

Rated at 30.12.2019
format_quote Es hat alles super geklappt und der Transfer hin und zurück vom Flughafen mit MOIA war kostenlos und es hat einwandfrei funktioniert. Ich würde diesen Parkplatz jederzeit wieder buchen. Andreas
"

Sicher und gutes Parken

"

Rated at 29.12.2019
format_quote Perfektes Urlaubsparken , wird wieder in Anspruch genommen Michael

Rated at 25.12.2019
format_quote Sehr zu empfehlen, werden bei Reisen ab Hamburg immer wieder auf den Service zurückgreifen. Jan
"

überdachter, zentral gelegener PArkplatz

"

Rated at 13.12.2019
format_quote Ein prima Parkplatz, um entspannt eine Reise zu starten. Wir werden diesen Parkplatz wieder buchen. Bernd

Rated at 10.12.2019
format_quote War alles OK saubere abgeschlossene Tiefgarage Klaus

Rated at 04.12.2019
format_quote Wir haben den Parkplatz und den Tranfer zum Flughafen zum 1. Mal genutzt und sind sehr zufrieden. Das Hotelpersonal ist sehr hilfsbereit und es klappte mit dem Transfer super schnell und sehr bequem. Nino

Rated at 02.12.2019
format_quote Alles sehr zufriedenstellend