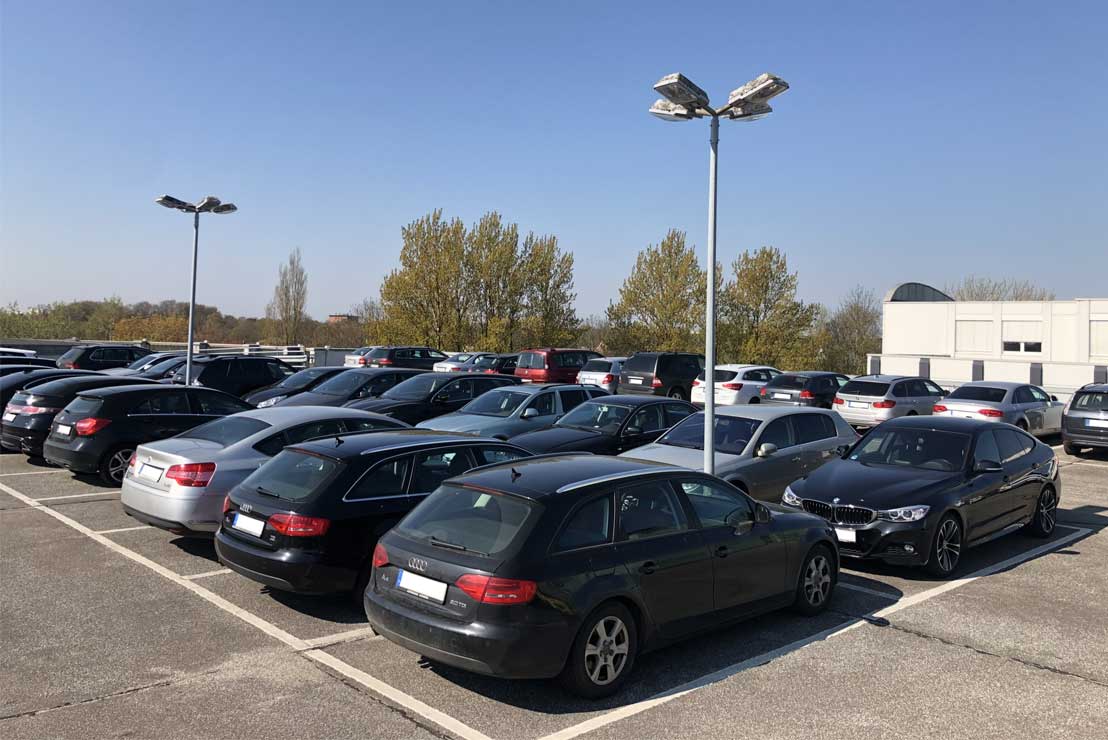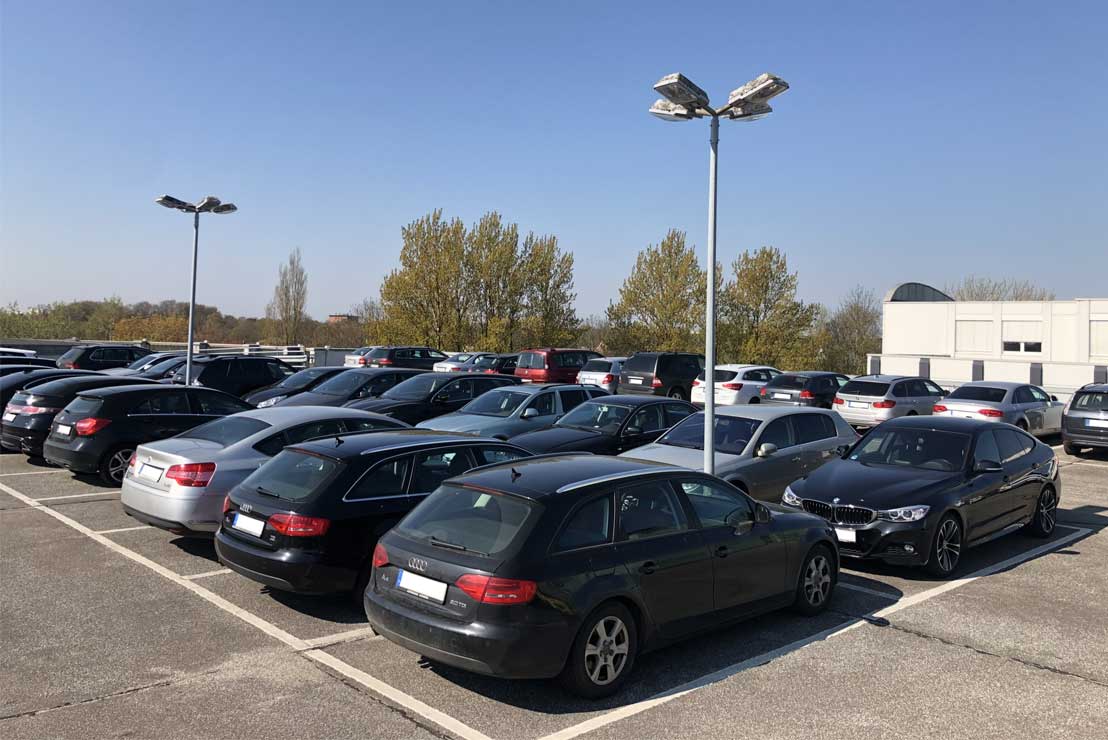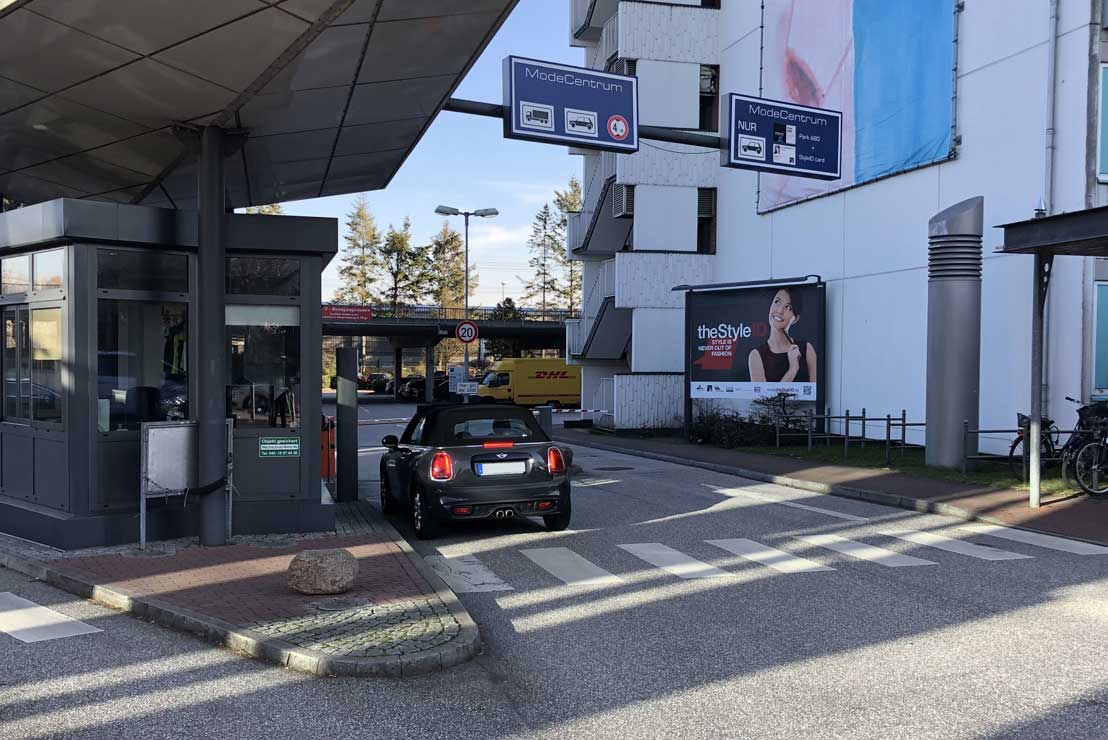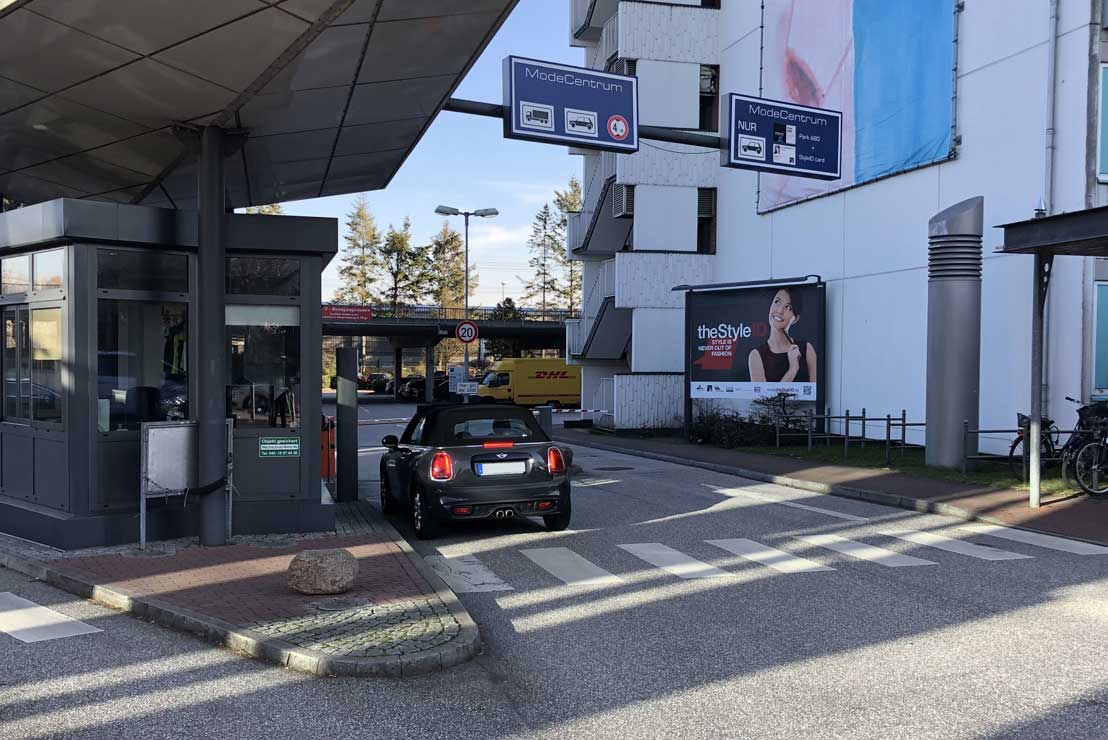 Excellent
thumb_up
4.7

of 5.0
Recommended
people

49

Reviews
Our committment
check

Money-Back Guarantee

check

Verified parking lot

check

Real customer reviews

check

Booking confirmation via mail

check

No registration necessary
---
Availability
| Parking lot | Parking duration | Parking fees | Availability |
| --- | --- | --- | --- |
| HANSA Parking Oberdeck Parking level | help_outline | help_outline | help_outline |
check_circle People monitored
check_circle Lit up parking lots
check_circle Video surveillance
check_circle Parking barrier
check_circle Legal liability insurance
check_circle Shuttle Service included
check_circle For up to 4 travelers included
check_circle Child safety seat available
check_circle Bulky baggage allowed: Ja
info Maximum waiting time: : ~30 Min.
info Transfer Duration: ~10 min.
info Distance: 8 km
info From 03:30 AM until the last flight
check_circle Restroom
check_circle Jump start
Map and route planner – Safely arrive at your destination
---
Newest Reviews for HANSA Parking Oberdeck
format_quote Ein zügiger Ablauf und sehr gute Organisation

Petra - 25.02.2020
format_quote Jederzeit wieder.

Dorthe - 22.02.2020
format_quote Gerne wieder

Marie - 20.02.2020
Sehr gute Parkplatzmöglichkeit

format_quote Alles sehr gut geklappt, auch das Personsal freundlich und hilfbereit

Michael - 19.02.2020
format_quote Ohne zu überlegen würde ich dort wieder einen Parkplatz buchen

Kay - 16.02.2020
format_quote Schneller Shuttle, freundliche Fahrer, schneller Kontakt, jederzeit wieder

Klaus - 14.02.2020
Wirtschaftliche Parkmöglichkeit mit Flughafenanbindung

format_quote Sehr guter Shuttle Service. Etwas unübersichtliche Parkplatzsuche - zu kleine Beschilderung

Uwe - 07.02.2020
Klasse Rundumpaket - Empfehlenswert!

format_quote Wirklich astreines Rundumpaket, sehr freundlicher und hilfsbereiter Fahrer, unbedingte Empfehlung - vielen Dank!

Alexander - 06.02.2020
format_quote Es ging alles sehr zügig. Der Fahrer war sehr nett, gerne wieder

Michael - 30.01.2020
100% Verified reviews - Real guests!
Only guests which have taken advantage of our service can review it. This guarantees that all our reviews come from real customers. After your return, you will receive an invitation to review our parking service.
Gesamtnote
COM_PLADMIN_NOTE_EXCELLENT
thumb_up
4.7 of 5.0
49 Reviews
Tips by travelers can help you to find the best parking lot Petra

Rated at 25.02.2020
format_quote Ein zügiger Ablauf und sehr gute Organisation Dorthe

Rated at 22.02.2020
format_quote Jederzeit wieder. Marie

Rated at 20.02.2020
format_quote Gerne wieder Michael
"

Sehr gute Parkplatzmöglichkeit

"

Rated at 19.02.2020
format_quote Alles sehr gut geklappt, auch das Personsal freundlich und hilfbereit Kay

Rated at 16.02.2020
format_quote Ohne zu überlegen würde ich dort wieder einen Parkplatz buchen Klaus

Rated at 14.02.2020
format_quote Schneller Shuttle, freundliche Fahrer, schneller Kontakt, jederzeit wieder Uwe
"

Wirtschaftliche Parkmöglichkeit mit Flughafenanbindung

"

Rated at 07.02.2020
format_quote Sehr guter Shuttle Service. Etwas unübersichtliche Parkplatzsuche - zu kleine Beschilderung Alexander
"

Klasse Rundumpaket - Empfehlenswert!

"

Rated at 06.02.2020
format_quote Wirklich astreines Rundumpaket, sehr freundlicher und hilfsbereiter Fahrer, unbedingte Empfehlung - vielen Dank! Michael

Rated at 30.01.2020
format_quote Es ging alles sehr zügig. Der Fahrer war sehr nett, gerne wieder Christiane

Rated at 22.01.2020
format_quote Immer wieder gerne! Willy

Rated at 17.01.2020
format_quote Der Parkplatz ist auf dem obersten Deck eines Parkhauses. Für mich also einfach zu finden und die Größe der Plätze war auch gut! Leider kein Fahrstuhl bis ganz nach oben, also musste man eine Etage zu Fuß laufen (eigentlich nicht weiter wild, aber morgens um 3:30 Uhr mit schlafenden im Kinderwagen schon störend). Transfer zum Flughafen ging ungefähr in 10min und der Fahrer war super nett und hilfsbereit! Es lief alles reibungslos und dazu war er zu unserem Zeitpunkt 50% billiger als der Parkplatz direkt am Flughafen. Sergej

Rated at 15.01.2020
format_quote Immer wieder Karsten

Rated at 12.01.2020
format_quote Ein tolles, mega nettes Team. Sehr zuvorkommend und sehr, sehr pünktlich. Die Wartezeit bei Abfahrt betrug keine Minute. Bei Ankunft nach dem Telefonat 10 Minuten. Ich stand gerade draußen am Terminal, schon kam der Shuttle. Absolut perfekt. Das Parkdeck sauber und ordentlich. Keinerlei Beanstandungen Yucheng

Rated at 09.01.2020
format_quote Obwohl ich selbst spaeter zum Parkplatz angekommen bin, verhaelt der Betreiber sehr kundenorientiert. Andrew
"

Richtig gute Parkplatz.

"

Rated at 09.01.2020
format_quote In der Nähe der A7. Sehr Freundlich und hilfreiches Personal. Sie haben einen erstklassigen Service geliefert. Alles sehr schnell und reibungslos gelaufen. Sehr leicht zu finden. Ich empfehle es sehr gerne. Peter

Rated at 08.01.2020
format_quote Parkplatz gut zu erreichen, Fahrzeit zum Flughafen kurz. Waren mit dem Gesamtpaket zu frieden Marlis
"

Gute Parkplätze in Abflugnähe

"

Rated at 03.01.2020
format_quote Perfekter Service,alles seriös abgelaufen! Axel

Rated at 29.12.2019
format_quote Gerne wieder Top Preis/ Leistung Werner

Rated at 24.12.2019
format_quote Absolut empfehlenswert, beim nächsten Anlass gerne wieder. Umfassendes Service-Paket, freundliche u hilfsbereite Mitarbeiter. Gerald

Rated at 21.12.2019
format_quote Gerne wieder! Björn

Rated at 14.12.2019
format_quote Bei der nächsten Buchung wieder mein Favorit! Bernd
"

Sehr gut und dicht an der Autobahn

"

Rated at 26.11.2019
format_quote Bestens, immer wieder. Marcus
"

Sehr gute Parkmöglichkeit

"

Rated at 18.11.2019
format_quote Sehr zufrieden! Nicole

Rated at 14.11.2019
format_quote Waren sehr zufrieden, buchen wir auf jeden Fall bei der nächsten Reise wieder ! Weiter so ! Johann
"

Parkmöglichkeiten perfekt

"

Rated at 26.10.2019
format_quote Immer wieder!!! Henning

Rated at 21.10.2019
format_quote 2 stunden Marcel
"

Prima und kostengünstige Parkmöglichkeit

"

Rated at 21.10.2019
format_quote Immer gerne wieder. Werde es auf jeden Fall weiterempfehlen Alexander

Rated at 08.10.2019
format_quote Empfehlenswert! Marion

Rated at 30.08.2019
format_quote Wir hatten es komfortabler gefunden wenn das Fahrzeug uns wie früher vom Fahrzeug abgeholt und auch zurück gebracht hätte. Der Fahrstuhl geht nur bis zum 5. Stockwerk Arthur
"

Gute parkmöglichkeit. Super Service. Keine Wartezeit.

"

Rated at 23.08.2019
format_quote Immer wieder gerne.