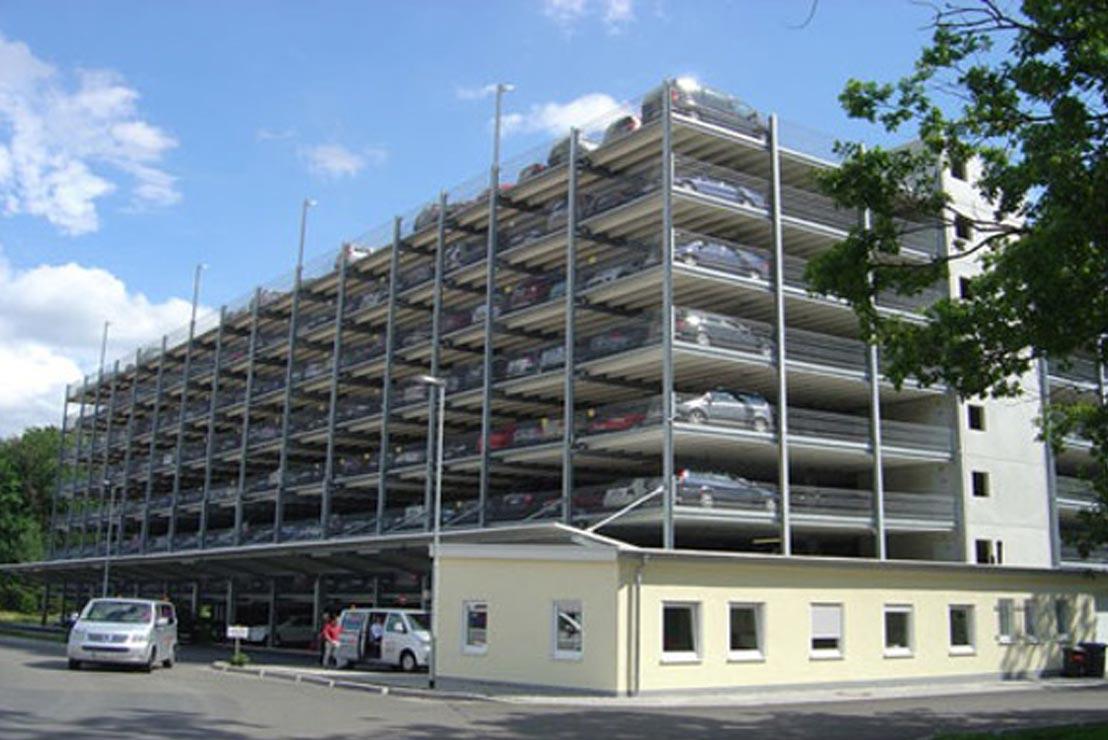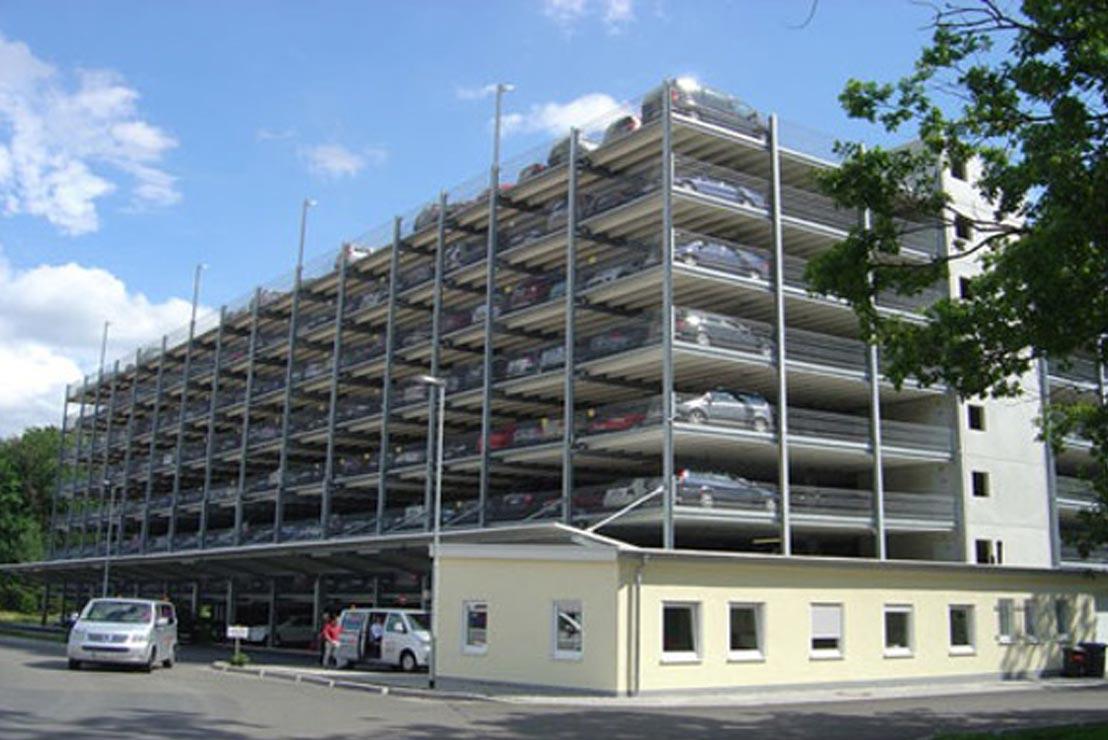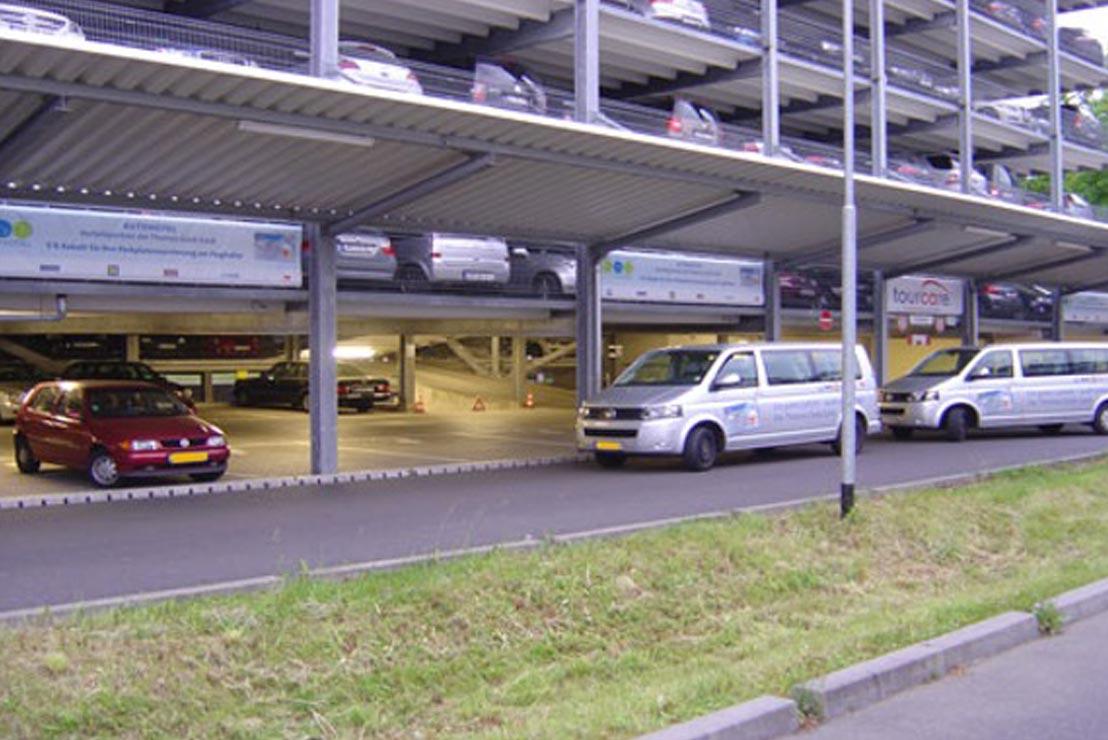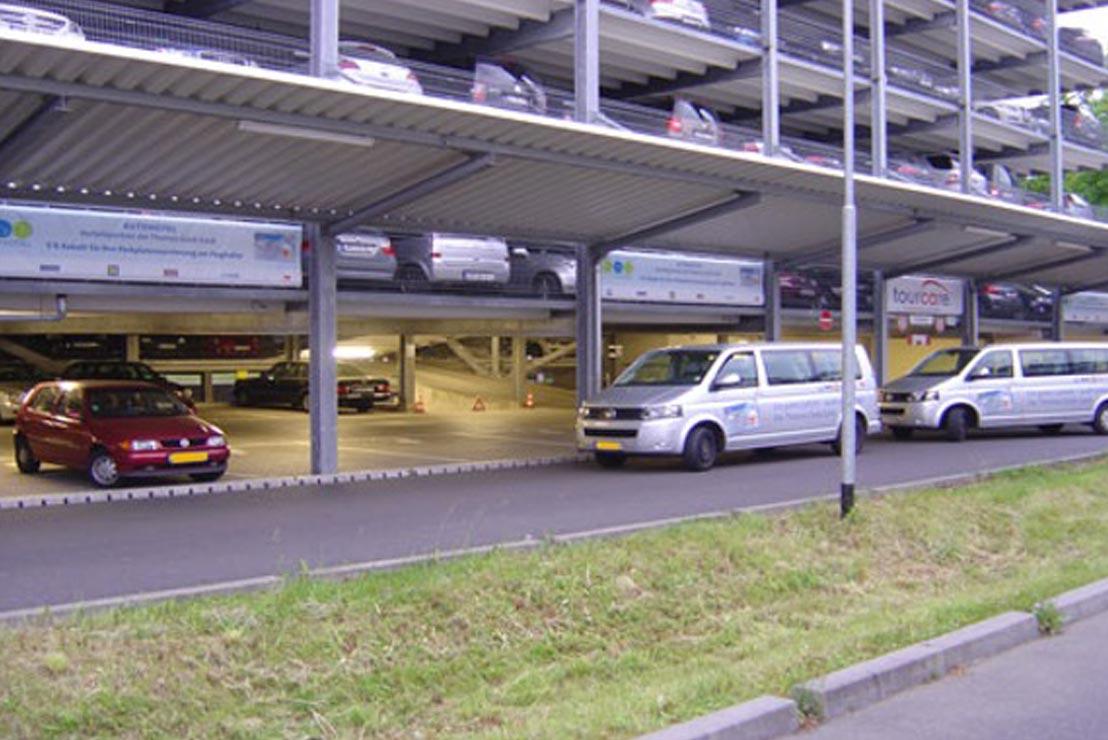 Excellent
thumb_up
4.7

of 5.0
Recommended
people

16

Reviews
Our committment
check

Money-Back Guarantee

check

Verified parking lot

check

Real customer reviews

check

Booking confirmation via mail

check

No registration necessary
---
Availability
| Parking lot | Parking duration | Parking fees | Availability |
| --- | --- | --- | --- |
| Tourcare Parkhaus Parking garage | help_outline | help_outline | help_outline |
check_circle Lit up parking lots
check_circle 24 hours staffed
check_circle Nicht eingezäunte Parkplätze
check_circle Legal liability insurance
check_circle Shuttle Service included
check_circle For up to 6 travelers included
check_circle Child safety seat available
info Maximum waiting time: : ~10 Min.
info Transfer Duration: ~07 min.
info Distance: 7.6 km
info 24-hours Shuttle Service
Map and route planner – Safely arrive at your destination
---
Newest Reviews for Tourcare Parkhaus
Eine richtig gute Parkmöglichkeit

format_quote Hat alles super gut funktioniert ohne Wartezeiten

Eduard - 31.01.2018
format_quote Top Hotel für das Auto, Top Service beim Transfer

Oliver - 03.10.2017
format_quote Sehr zufrieden werde es weiterempfehlen.

Francisco - 12.09.2017
Sehr gute Parkalternative gegenüber dem Flughafen

format_quote Jeder Zeit wieder! Gesamtpaket passte!

Holger - 28.06.2017
Sehr gute Parkmöglichkeit in der Nähe vom Flughafen

format_quote Top Service, freundliches Personal, wir kommen gerne wieder!

Thomas - 20.06.2017
format_quote Zufrieden keine Probleme

Klaus015231899155-Dieter - 12.12.2016
format_quote Immer wieder gerne!

Andreas - 06.12.2016
Hervorragende Parkmöglichkeit

format_quote Ein sehr gut geeigneter Platz zum Parken

Werner - 30.11.2016
format_quote Jederzeit wieder,günstig und gut!

Andrea - 14.10.2016
100% Verified reviews - Real guests!
Only guests which have taken advantage of our service can review it. This guarantees that all our reviews come from real customers. After your return, you will receive an invitation to review our parking service.
Gesamtnote
COM_PLADMIN_NOTE_EXCELLENT
thumb_up
4.7 of 5.0
16 Reviews
Tips by travelers can help you to find the best parking lot Eduard
"

Eine richtig gute Parkmöglichkeit

"

Rated at 31.01.2018
format_quote Hat alles super gut funktioniert ohne Wartezeiten Oliver

Rated at 03.10.2017
format_quote Top Hotel für das Auto, Top Service beim Transfer Francisco

Rated at 12.09.2017
format_quote Sehr zufrieden werde es weiterempfehlen. Holger
"

Sehr gute Parkalternative gegenüber dem Flughafen

"

Rated at 28.06.2017
format_quote Jeder Zeit wieder! Gesamtpaket passte! Thomas
"

Sehr gute Parkmöglichkeit in der Nähe vom Flughafen

"

Rated at 20.06.2017
format_quote Top Service, freundliches Personal, wir kommen gerne wieder! Klaus015231899155-Dieter

Rated at 12.12.2016
format_quote Zufrieden keine Probleme Andreas

Rated at 06.12.2016
format_quote Immer wieder gerne! Werner
"

Hervorragende Parkmöglichkeit

"

Rated at 30.11.2016
format_quote Ein sehr gut geeigneter Platz zum Parken Andrea

Rated at 14.10.2016
format_quote Jederzeit wieder,günstig und gut! Thomas
"

Es lässt sich gut parken

"

Rated at 22.09.2016
format_quote Würde wieder dort parken Gregor

Rated at 13.08.2016
format_quote Gerne wieder! Petr

Rated at 21.06.2016
format_quote Perfect place Jürgen
"

Gute Parkmöglichkeit in Flughafennähe

"

Rated at 08.06.2016
format_quote Gute Parkmöglichkeit mit sehr gutem Service, Shuttle, Preis, Zeiten alles sehr angenehm Frank

Rated at 02.06.2016
format_quote Gute Parkmöglichkeiten neue Buchung erfolgt in kürze Ralf
"

Unterstellung und Parkhaus top

"

Rated at 02.06.2016
format_quote Einfach gerne wieder Ralf

Rated at 01.06.2016
format_quote War in Ordnung