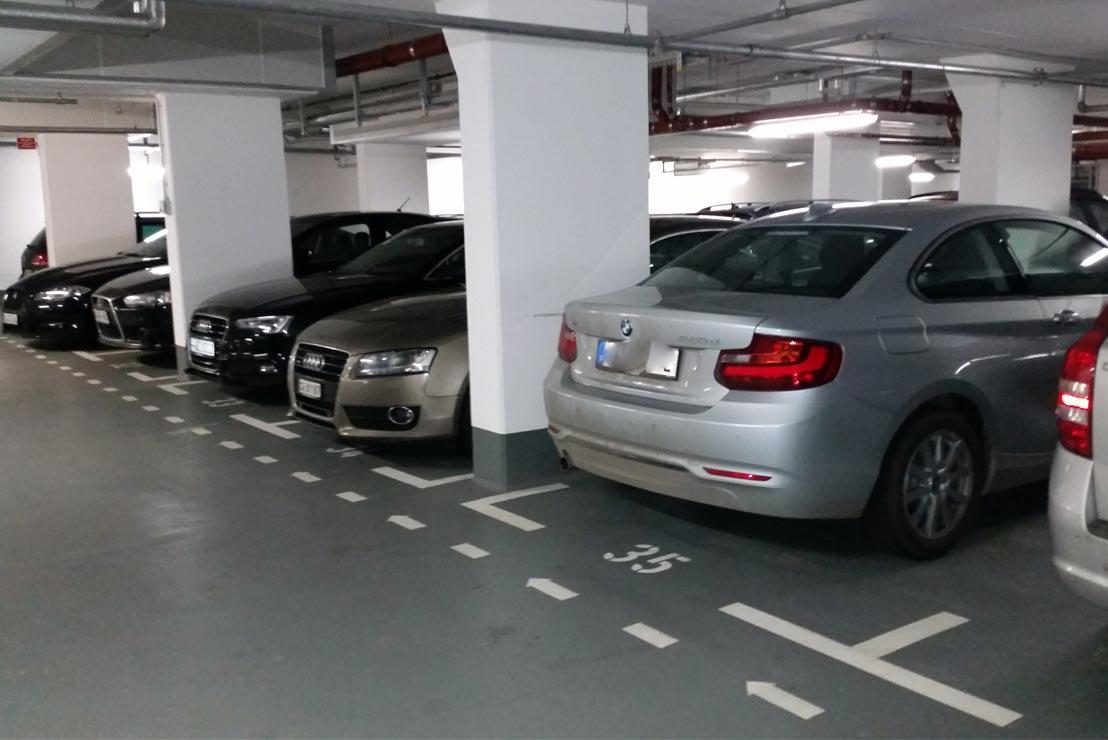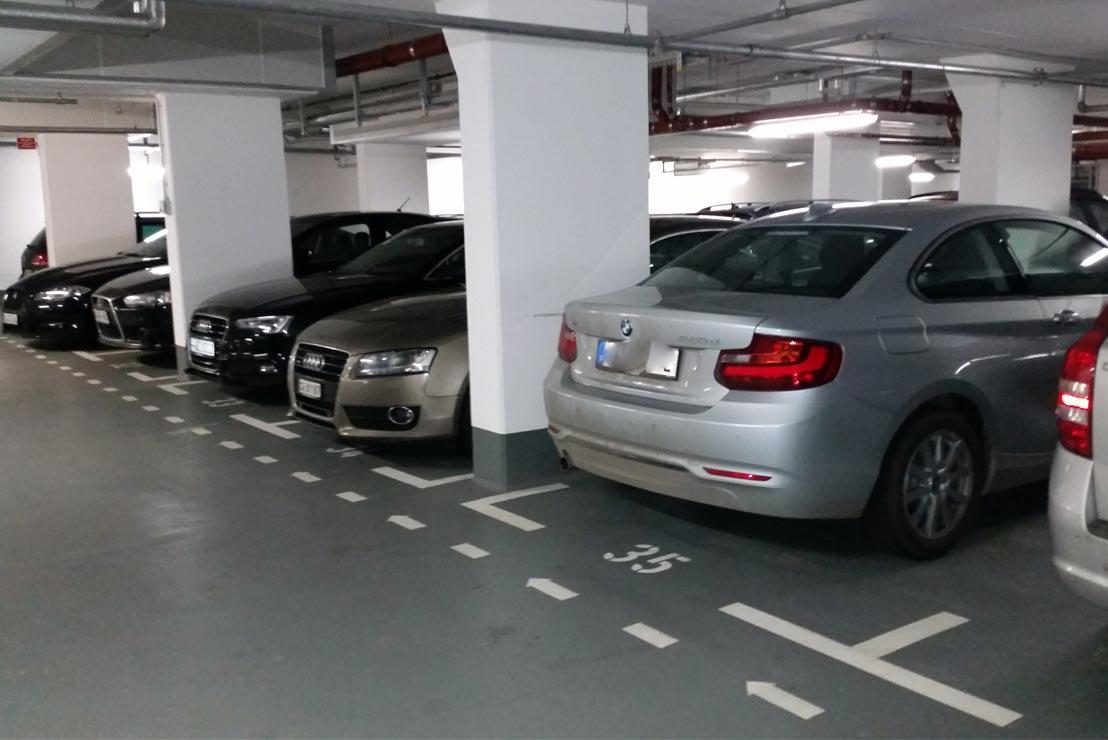 Excellent
thumb_up
4.9

of 5.0
Recommended
people

345

Reviews
Our committment
check

Verified parking lot

check

Real customer reviews

check

Booking confirmation via mail

check

No registration necessary
---
Availability
| Parking lot | Parking duration | Parking fees | Availability |
| --- | --- | --- | --- |
| Flughafenparkplatz Tiefgarage Valet Underground parking | help_outline | help_outline | help_outline |
check_circle Lit up parking lots
check_circle Parking barrier
check_circle 24 hours staffed
check_circle Nicht eingezäunte Parkplätze
check_circle Legal liability insurance
check_circle Valet Service included
check_circle Vehicle handover at the terminal
check_circle Vehicle acceptance at the terminal
check_circle Insured during transfer
check_circle Vehicle protocol
info Maximum waiting time: : ~00 Min.
info Overpass duration: ~10 Min.
info Distance: 9.3 km
info From 05:00 AM until the last flight
check_circle Vehicle service
check_circle Jump start
Map and route planner – Safely arrive at your destination
---
Newest Reviews for Flughafenparkplatz Tiefgarage Valet
format_quote

Simone - 15.06.2021
format_quote immer wieder gerne

Jens - 03.06.2021
Empfehlenswerte PArkmöglichkeit

format_quote Ich werde wieder bei Bedarf hier parken.

Horst - 11.11.2020
format_quote Nutzen wir wieder

Marina - 09.10.2020
format_quote Jederzeit wieder!

Wolfgang - 05.10.2020
Reibungslose Übergabe bei hin und rück Flug

format_quote Perfect

Torsten - 28.09.2020
format_quote Super Service hat alles perfekt geklappt. Jederzeit wieder.

Holm - 21.09.2020
format_quote Wir mussten den Abholdienst vor dem eigentlichen Anfangszeit in Anspruch nehmen. Wir wurden vorher angerufen und man hat uns trotzdem um 2 Uhr in Empfang genommen dafür noch mal vielen Lieben Dank!

Michaela - 17.09.2020
format_quote Empfehlenswert

Hans-Jörg - 16.09.2020
100% Verified reviews - Real guests!
Only guests which have taken advantage of our service can review it. This guarantees that all our reviews come from real customers. After your return, you will receive an invitation to review our parking service.
Gesamtnote
COM_PLADMIN_NOTE_EXCELLENT
thumb_up
4.9 of 5.0
345 Reviews
Tips by travelers can help you to find the best parking lot Simone

Rated at 15.06.2021
format_quote Jens

Rated at 03.06.2021
format_quote immer wieder gerne Horst
"

Empfehlenswerte PArkmöglichkeit

"

Rated at 11.11.2020
format_quote Ich werde wieder bei Bedarf hier parken. Marina

Rated at 09.10.2020
format_quote Nutzen wir wieder Wolfgang

Rated at 05.10.2020
format_quote Jederzeit wieder! Torsten
"

Reibungslose Übergabe bei hin und rück Flug

"

Rated at 28.09.2020
format_quote Perfect Holm

Rated at 21.09.2020
format_quote Super Service hat alles perfekt geklappt. Jederzeit wieder. Michaela

Rated at 17.09.2020
format_quote Wir mussten den Abholdienst vor dem eigentlichen Anfangszeit in Anspruch nehmen. Wir wurden vorher angerufen und man hat uns trotzdem um 2 Uhr in Empfang genommen dafür noch mal vielen Lieben Dank! Hans-Jörg

Rated at 16.09.2020
format_quote Empfehlenswert peter

Rated at 02.09.2020
format_quote Die Abwicklung war perfekt. Ankommen am Flughafen, Fahrzeug übergeben und fertig. Nach Rückflug ankommen, anrufen. 2 Minuten später mein Fahrzeug übernommen; Koffer rein und fertig. Sehr zufrieden Selcuk

Rated at 27.08.2020
format_quote Zuverlässig und freundlich Penelope

Rated at 26.08.2020
format_quote Super Marcus

Rated at 19.08.2020
format_quote TOP Gerhard

Rated at 15.03.2020
format_quote Gerne wieder Heinrich
"

Parkplatz am Flughafen Frankfurt am Main

"

Rated at 10.03.2020
format_quote Ich werde diesen Service sicherlich wieder in Anspruch nehmen und weiter empfehlen Sabine

Rated at 06.03.2020
format_quote Toller Service werde es weiter empfehlen Monika

Rated at 04.03.2020
format_quote Hat alles super geklappt. Jederzeit wieder. Nur zu empfehlen Markus

Rated at 28.02.2020
format_quote Eine sehr kompetente und schnelle Dienstleistung. Der Mitarbeiter wartete schon bei unsere Ankuft am Flughafen und bei Rückkehr stand unser Wagen schon direkt vor der Tür. Alles sehr unkompliziert und sehr zuverlässig. Jeannot
"

Gutes und bequemes parken

"

Rated at 22.02.2020
format_quote Das zweitemal gebucht und hat wieder alles geklappt Andrea

Rated at 21.02.2020
format_quote immer wieder sehr gerne bzw. nur noch Valet-Parking Gerd
"

Bequem Parken und Fliegen

"

Rated at 21.02.2020
format_quote Übergabe und Rückgabe des Fahrzeuges direkt am Terminal- Eingang hat nach der telefonischen Anmeldung der Ankunftszeit jeweils reibungslos geklappt Jürgen

Rated at 14.02.2020
format_quote Gerne wieder. Walter
"

Parkmöglichkeit für uns Ideal

"

Rated at 04.02.2020
format_quote Bereits mehrfach gebucht. Wie Immer ohne Probleme. Für uns die beste Möglichkeit Möglichkeit das Auto sicher zu Parken Markus
"

Sehr gute Parkmöglichkeit, prima Service

"

Rated at 03.02.2020
format_quote Würde ich jederzeit wieder buchen Ralf-Dieter Koch

Rated at 03.02.2020
format_quote Super Service. Keine Wartezeit bei Ab- und Annahme. Marco

Rated at 02.02.2020
format_quote ? Lajos

Rated at 30.01.2020
format_quote Alles. Bestens Thomas

Rated at 27.01.2020
format_quote empfehlenswert Manfred

Rated at 24.01.2020
format_quote ich habe den Service zum 3. Mal genutzt und werde es weiterhin so machen, da der Service immer gut war und den Aufpreis zu einer "normalen" Parkmöglichkeit immer gerechtfertigt! Sebastian

Rated at 15.01.2020
format_quote Sehr guter Service. Wir mussten keine Sekunde warten.