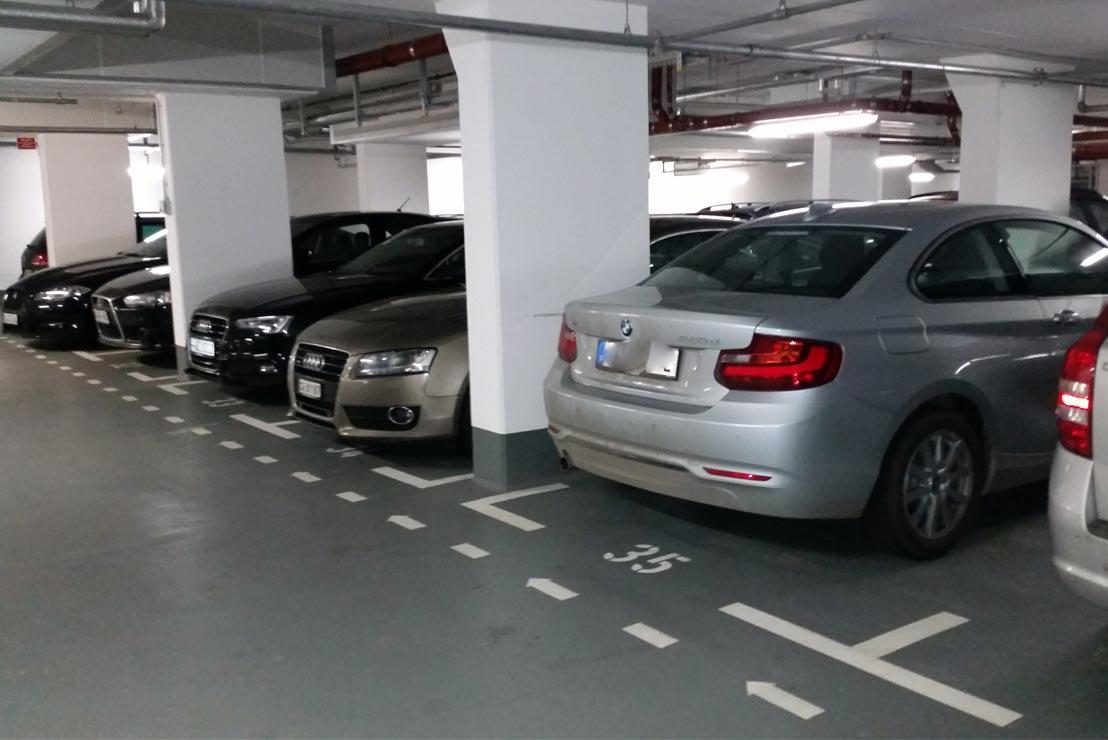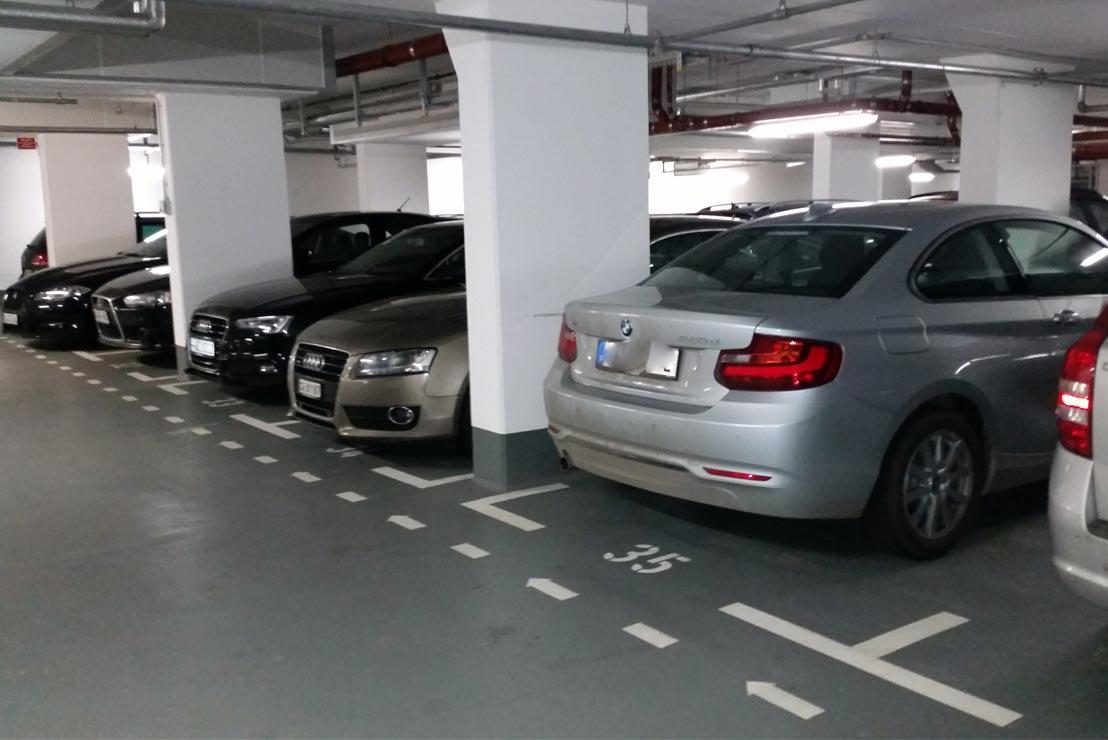 Excellent
thumb_up
4.9

of 5.0
Recommended
people

30

Reviews
Our committment
check

Money-Back Guarantee

check

Verified parking lot

check

Real customer reviews

check

Booking confirmation via mail

check

No registration necessary
---
Availability
| Parking lot | Parking duration | Parking fees | Availability |
| --- | --- | --- | --- |
| Flughafenparkplatz Tiefgarage Valet Underground parking | help_outline | help_outline | help_outline |
check_circle Lit up parking lots
check_circle Parking barrier
check_circle 24 hours staffed
check_circle Nicht eingezäunte Parkplätze
check_circle Legal liability insurance
check_circle Valet Service included
check_circle Vehicle handover at the terminal
check_circle Vehicle acceptance at the terminal
check_circle Insured during transfer
check_circle Vehicle protocol
info Maximum waiting time: : ~00 Min.
info Overpass duration: ~06 Min.
info Distance: 2.3 km
info From 05:00 AM until the last flight
check_circle Vehicle service
check_circle Jump start
Map and route planner – Safely arrive at your destination
---
Newest Reviews for Flughafenparkplatz Tiefgarage Valet
Sehr gute Parkmöglichkeit

format_quote Weiterempfehlung

Gerhard - 24.07.2018
format_quote Immer wieder weil problemloser Service von Anfang bis Ende

Harald - 01.07.2018
format_quote Wir haben Valet Parking genutzt. Abgabe und Abholung des Fahrzeugs ohne jegliche Wartezeit. Schneller und günstiger als im überteuerten und weitläufigen Parkhaus

Carsten - 20.06.2018
hat einwandfrei funktioniert - sehr zu empfehlen

format_quote würde ich wieder machen!

Carolin - 19.06.2018
format_quote Abnahme und Übergabe des Fahrzeugs hat wunderbar funktioniert. Super nettes Personal.

Silke - 15.06.2018
format_quote Tolle Einrichtung der Hol- und Bringservice. Gerne wieder

Stefan - 30.05.2018
format_quote This was easy to use and fast drop off and pick up directly at departure terminal!

Phony - 30.05.2018
format_quote Stressfreies optimales Parken am Flughafen

Margrit - 24.05.2018
format_quote Gerne jederzeit wieder.

Andreas - 22.05.2018
100% Verified reviews - Real guests!
Only guests which have taken advantage of our service can review it. This guarantees that all our reviews come from real customers. After your return, you will receive an invitation to review our parking service.
Gesamtnote
COM_PLADMIN_NOTE_EXCELLENT
thumb_up
4.9 of 5.0
30 Reviews
Tips by travelers can help you to find the best parking lot Gerhard
"

Sehr gute Parkmöglichkeit

"

Rated at 24.07.2018
format_quote Weiterempfehlung Harald

Rated at 01.07.2018
format_quote Immer wieder weil problemloser Service von Anfang bis Ende Carsten
"

Reibungslose Abwicklung

"

Rated at 20.06.2018
format_quote Wir haben Valet Parking genutzt. Abgabe und Abholung des Fahrzeugs ohne jegliche Wartezeit. Schneller und günstiger als im überteuerten und weitläufigen Parkhaus Carolin
"

hat einwandfrei funktioniert - sehr zu empfehlen

"

Rated at 19.06.2018
format_quote würde ich wieder machen! Silke

Rated at 15.06.2018
format_quote Abnahme und Übergabe des Fahrzeugs hat wunderbar funktioniert. Super nettes Personal. Stefan

Rated at 30.05.2018
format_quote Tolle Einrichtung der Hol- und Bringservice. Gerne wieder Phony

Rated at 30.05.2018
format_quote This was easy to use and fast drop off and pick up directly at departure terminal! Margrit

Rated at 24.05.2018
format_quote Stressfreies optimales Parken am Flughafen Andreas

Rated at 22.05.2018
format_quote Gerne jederzeit wieder. Armin

Rated at 14.05.2018
format_quote guter service Volker A.R.
"

Ausgezeichneter Parkplatz Valet Service

"

Rated at 20.03.2018
format_quote Sehr zuverlässige und prompter Valetservice mit freundlichem Personal Johannes
"

Unkomplizierter und freundlicher Service

"

Rated at 15.01.2018
format_quote Unkompilzierter und freundlicher Service Oliver
"

Genau so sollte Valet Parking sein!

"

Rated at 05.11.2017
format_quote Bei der Fahrzeugabgabe wurden wir bereits am Terminal durch einen sehr freundlichen Mitarbeiter erwartet. Fahrzeugübergabe nach Ankunft am Flughafen 5 Minuten nach unserem Anruf. Der Wagen wurde wie gebucht in der Tiefgarage geparkt und nicht weiter bewegt als dafür notwendig. Tadelloser Zustand des Wagens und wieder sehr freundlicher Kontakt. Es gab andere Angebote die für eine Woche gut 40 EUR günstiger waren, aber hier würde ich jederzeit wieder buchen und nichts anderes versuchen wenn ich nicht müsste. Genau so sollte es ablaufen, was ich leider schon ganz anders erlebt habe. Sonja

Rated at 08.08.2017
format_quote Wir werden den Valet-Service wieder buchen. Jean-Pierre

Rated at 15.02.2017
format_quote Alls OK Carsten
"

Günstige Parkmöglichkeit

"

Rated at 26.10.2016
format_quote Wenn es bei der Fahrzeugübergabe keine lange Wartezeit aufgrund eines technischen Defektes ihrerseits gegeben hätte, wäre alles super gewesen. Lutz

Rated at 03.10.2016
format_quote Service sehr gut Dietmar

Rated at 25.09.2016
format_quote Waren sehr zufrieden. Karsten

Rated at 13.09.2016
format_quote Super Service und Preis -Leistung ! Haben nicht eine Minute Wartezeit gehabt, jederzeit war jemand erreichbar. Alles hat super geklappt und man spart sich den lästigen Shuttle... Jederzeit wieder !! Werner
"

Sehr zuverlässiger Service

"

Rated at 11.09.2016
format_quote Bisher absolut verlässlich und stets pünktlich. Freundliches Personal. Willi

Rated at 12.08.2016
format_quote Hat alles super geklappt Wolfgang
"

einfachste Parkmöglichkeit !

"

Rated at 29.06.2016
format_quote Absolut einfaches und problemloses Parken: am Terminal anfahren, das Auto dort abgeben und am Terminal wieder entgegen nehmen, und alles ohne Wartezeiten. Sabine

Rated at 02.06.2016
format_quote Immer wieder gerne! Gerhard
"

Die Emirate-immer eine Reise wert !

"

Rated at 28.09.2015
format_quote In Zukunft werde wir den Valet Service wieder in Anspruch nehmen, super Service, angenehm, keine Wartezeiten! Willi

Rated at 21.08.2015
format_quote Meine erste Erfahrung mit Valet Service ist sehr Positiv. Es ging einfach ohne Kompromisse . Online Parkplatz reserviert und direkt zum Flughafen gefahren, Pkw übergeben einem Valet Service Mitarbeiter, zurückgekommen, ins Auto eingestiegen und nach Hause gefahren . Würde gerne wieder Nutzen. Detlef

Rated at 06.08.2015
format_quote Accueil parfait aussi bien à l'aller qu'au retour. Véhicule en parfait état. Rien à redire. Je réutiliserai ce service lors de mon prochain voyage. Michael

Rated at 10.07.2015
format_quote Wir waren sehr zufrieden, es hat alles wunderbar geklappt. Das Auto war in einem sehr guten Zustand und der Service hervorragend. Joachim
"

super und empfehlenswert

"

Rated at 07.06.2015
format_quote ein völlig unkomplizierter, sehr empfehlenswerter Service, der keine Wünsche übrigläßt. Freundlichkeit, Zuvorkommenheit, Pünktlichkeit - alles beispielhaft Andreas
"

pünktlich, freundlich, zuverlässig

"

Rated at 31.05.2015
format_quote Wir erhielten bei der Mitteilung unserer Ankunftszeit auch mitgeteilt von welchem Terminal unser Flug abgeht, der Mitarbeiter war am Terminal als wir ankamen, half bei ausladen und nahm uns nach dem Rückflug auch wieder in Empfang. Er war superpünktlich! Ralph

Rated at 23.02.2015
format_quote Sehr professionelles und zuverlässiges Personal. Ich werde den Service wieder nutzen. Empfehlenswert.