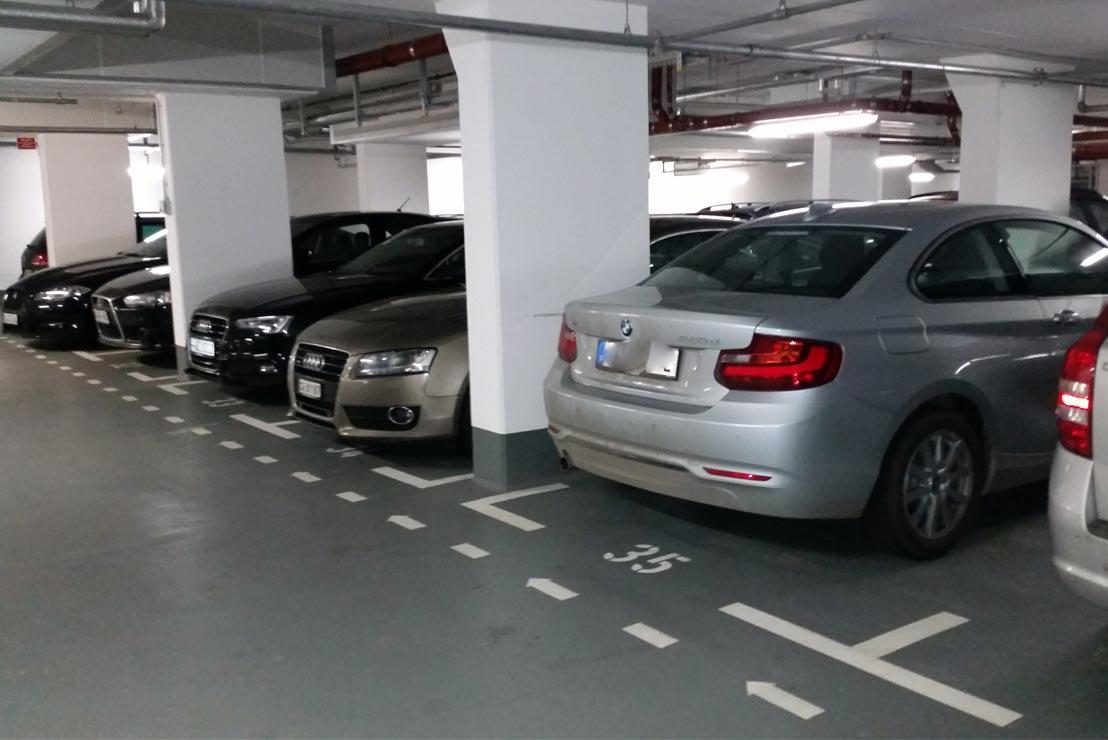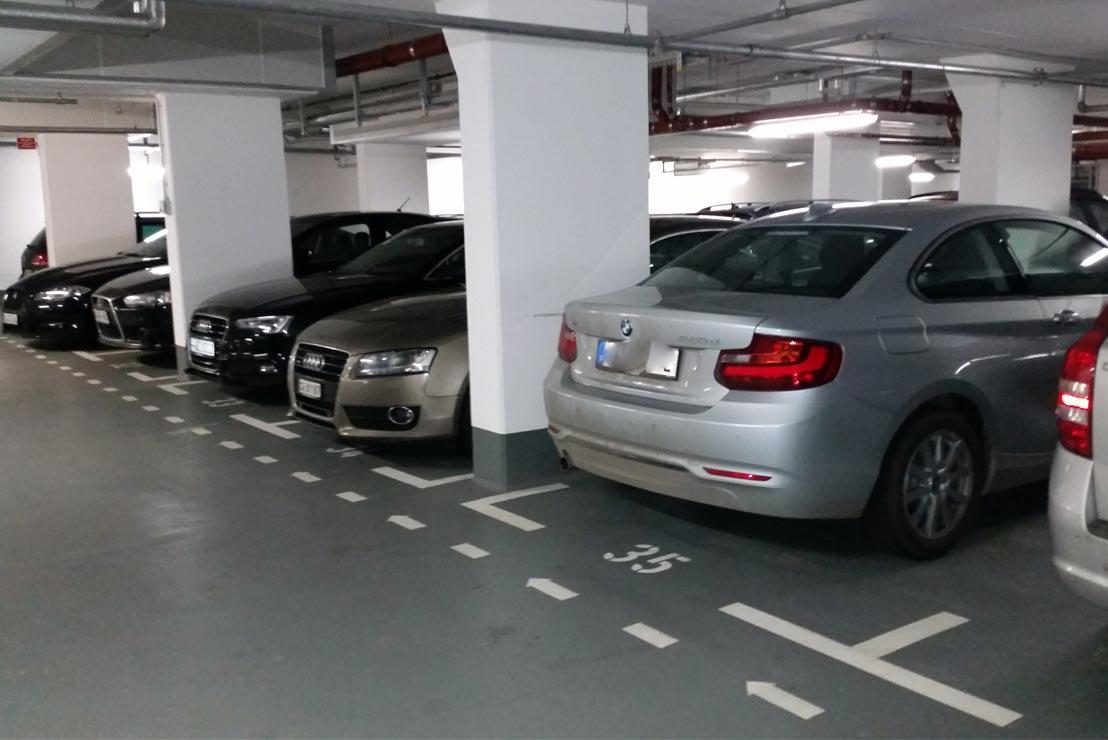 Excellent
thumb_up
4.9

of 5.0
Recommended
people

124

Reviews
Our committment
check

Money-Back Guarantee

check

Verified parking lot

check

Real customer reviews

check

Booking confirmation via mail

check

No registration necessary
---
Availability
| Parking lot | Parking duration | Parking fees | Availability |
| --- | --- | --- | --- |
| Flughafenparkplatz Tiefgarage Valet Underground parking | help_outline | help_outline | help_outline |
check_circle Lit up parking lots
check_circle Parking barrier
check_circle 24 hours staffed
check_circle Nicht eingezäunte Parkplätze
check_circle Legal liability insurance
check_circle Valet Service included
check_circle Vehicle handover at the terminal
check_circle Vehicle acceptance at the terminal
check_circle Insured during transfer
check_circle Vehicle protocol
info Maximum waiting time: : ~00 Min.
info Overpass duration: ~06 Min.
info Distance: 2.3 km
info From 05:00 AM until the last flight
check_circle Vehicle service
check_circle Jump start
Map and route planner – Safely arrive at your destination
---
Newest Reviews for Flughafenparkplatz Tiefgarage Valet
format_quote guter service da valet parking parkplatz eigentlich nicht bewertbar

Dieter - 07.04.2019
format_quote Valid Parking war für uns als Familie mit Kleinkinder ein sehr angenehmes Verfahren für einen stresslosen Start in den Urlaub

Patrick - 05.04.2019
format_quote Wieder gerne

Olga - 04.04.2019
format_quote Schon oft gebucht und gerne wieder

Jürgen - 01.04.2019
format_quote Wir sind sehr zufrieden und werden wiedre buchen

Philemon - 01.04.2019
format_quote Kann ich nur weiter empfehlen!

JENS - 01.04.2019
Sehr gute Parkmöglichkeit

format_quote Immer gerne wieder! Tollrs Parkerlebnis

Klaus - 28.03.2019
format_quote Sorglos sicher

catharina - 19.03.2019
Einfach nur zu empfehlen!

format_quote Jederzeit wieder!

Markus - 13.03.2019
100% Verified reviews - Real guests!
Only guests which have taken advantage of our service can review it. This guarantees that all our reviews come from real customers. After your return, you will receive an invitation to review our parking service.
Gesamtnote
COM_PLADMIN_NOTE_EXCELLENT
thumb_up
4.9 of 5.0
124 Reviews
Tips by travelers can help you to find the best parking lot Dieter

Rated at 07.04.2019
format_quote guter service da valet parking parkplatz eigentlich nicht bewertbar Patrick

Rated at 05.04.2019
format_quote Valid Parking war für uns als Familie mit Kleinkinder ein sehr angenehmes Verfahren für einen stresslosen Start in den Urlaub Olga

Rated at 04.04.2019
format_quote Wieder gerne Jürgen

Rated at 01.04.2019
format_quote Schon oft gebucht und gerne wieder Philemon

Rated at 01.04.2019
format_quote Wir sind sehr zufrieden und werden wiedre buchen JENS

Rated at 01.04.2019
format_quote Kann ich nur weiter empfehlen! Klaus
"

Sehr gute Parkmöglichkeit

"

Rated at 28.03.2019
format_quote Immer gerne wieder! Tollrs Parkerlebnis catharina
"

Einfach, schnell, bequem

"

Rated at 19.03.2019
format_quote Sorglos sicher Markus
"

Einfach nur zu empfehlen!

"

Rated at 13.03.2019
format_quote Jederzeit wieder! Johann

Rated at 18.02.2019
format_quote Sehr freundliche Mitarbeiter . Ich hatte mein Handy im Auto vergessen , der freundliche Mitarbeiter hat es mir extra nachgebracht . Christian

Rated at 05.02.2019
format_quote reibungslos Frederik
"

Hat alles perfekt geklappt

"

Rated at 29.01.2019
format_quote Gerne wieder Alfred
"

Schnelle Abholung und schnelles Wiedervorfahren

"

Rated at 23.01.2019
format_quote Sehr gut Katinka

Rated at 13.01.2019
format_quote Super Service, sehr freundlich. Einwandfrei und sicher nicht zum letzten Mal gebucht. Michael
"

Valet Parking - Besser geht's nicht!

"

Rated at 09.01.2019
format_quote Bei diesem Anbieter mache ich das gerne jederzeit wieder! Martin

Rated at 08.01.2019
format_quote Alles bestens, gerne wieder. Sybille

Rated at 08.01.2019
format_quote Sehr empfehlenswert. Öktem

Rated at 06.01.2019
format_quote Sehr gerne wieder! Ich kann es wirklich nur empfehlen sehr nette und kompetente Mitarbeiter alles ohne Wartezeit! Heike

Rated at 12.12.2018
format_quote Von der Buchung und den damit verbundenen erhaltenen Unterlagen bis zur Abgabe und Rücknahme des PKW`s einen reibungslosen Ablauf. Die Kommunikation lief sehr gut; auch und gerade im Hinblick auf unsere etwas verfrühte Ankunft (ca 20 min) am Flughafen Frankfurt. Hier wurde seitens des Anbieters flexible reagiert. Sehr entgegen kommend war die Hilfe beim Ausladen des Fahrzeugs (wir hatten Golfgepäck dabei). Andreas

Rated at 10.12.2018
format_quote Super Service! Immer wieder gerne. Marina

Rated at 28.11.2018
format_quote Funktioniert wie geplant Olga

Rated at 23.11.2018
format_quote Für meine nächste Reise auf jeden Fall wieder Julien
"

Optimale Lösung zum Parken

"

Rated at 21.11.2018
format_quote Einfach und zuverlässig Dr. Wilfried
"

sehr gute Parkmöglichkeit

"

Rated at 19.11.2018
format_quote alles zu vollsten Zufriedenheit Edith

Rated at 15.11.2018
format_quote Empfehle ich gerne weiter Jürgen

Rated at 13.11.2018
format_quote Freundlich, pünktlich und kompetent Martin
"

Zuverlässiges Valetparking

"

Rated at 07.11.2018
format_quote Gerne wieder. Jorge
"

Fast alles perfekt und schnell

"

Rated at 06.11.2018
format_quote Ich wusste nicht dass ein wasch Service gab. Sibylle

Rated at 05.11.2018
format_quote Alles hat super geklappt, nette Mitarbeiter, schnelle Übergabe, Preis noch im Rahmen. Werden wir bestimmt wieder nutzen und auch weiterempfehlen! Dieter

Rated at 05.11.2018
format_quote Sehr zufrieden