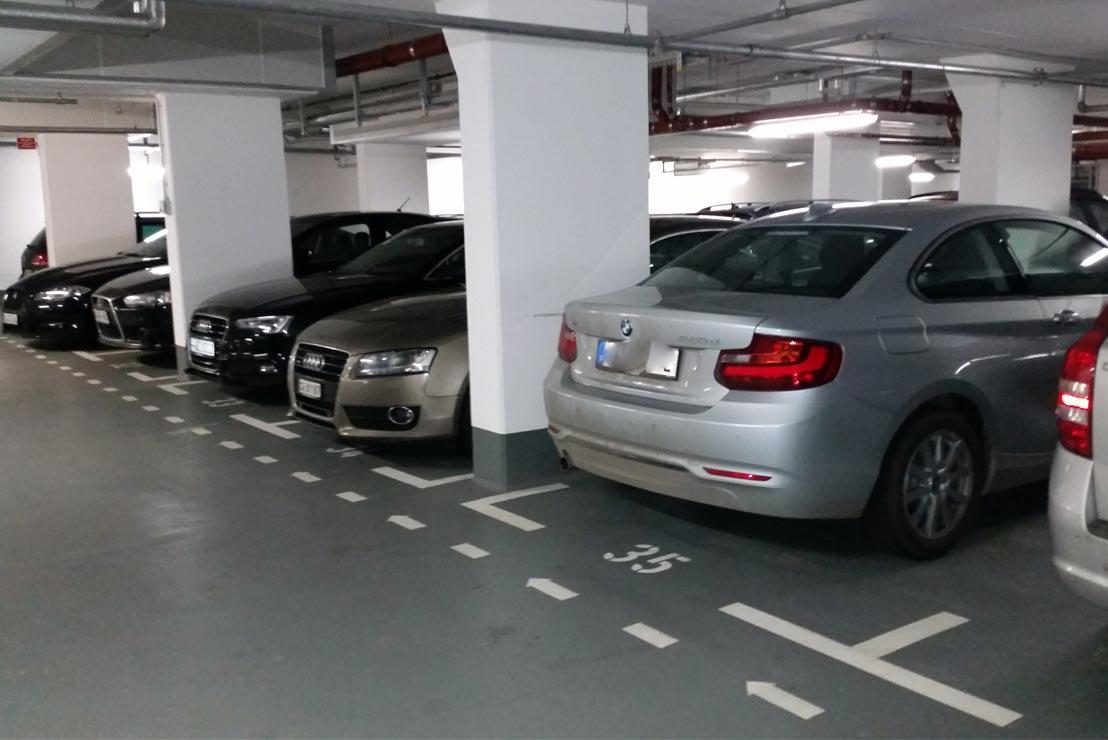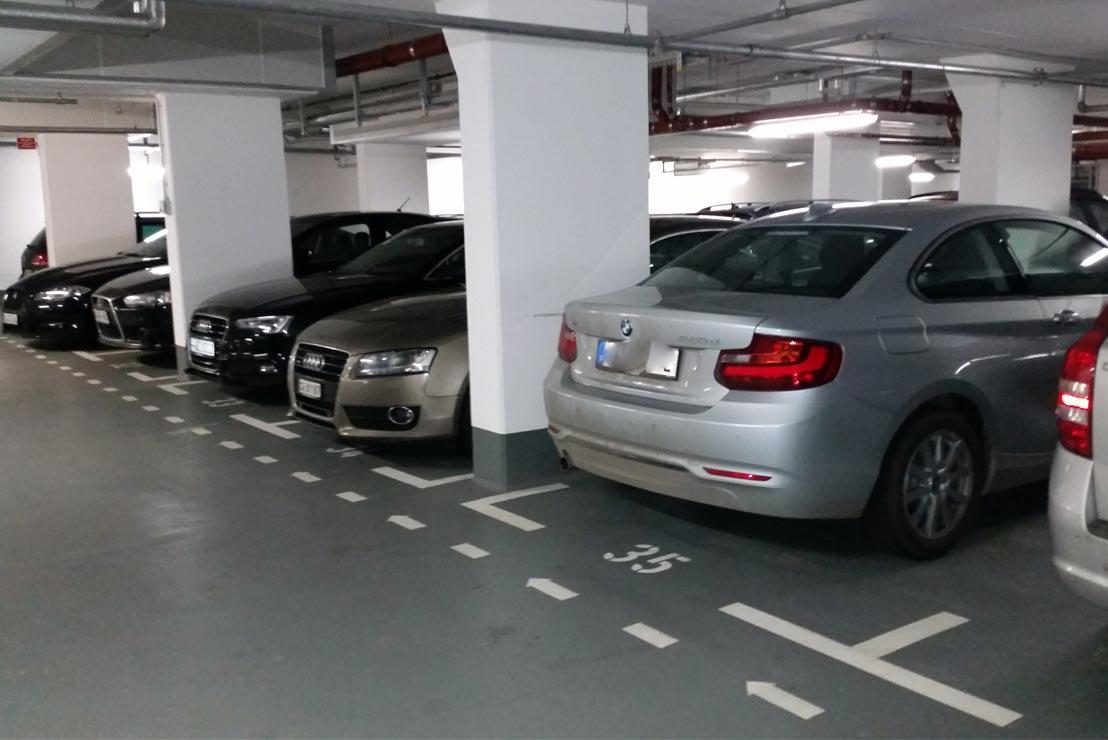 Excellent
thumb_up
4.9

of 5.0
Recommended
people

374

Reviews
Our committment
check

Verified parking lot

check

Real customer reviews

check

Booking confirmation via mail

check

No registration necessary
---
Availability
| Parking lot | Parking duration | Parking fees | Availability |
| --- | --- | --- | --- |
| Flughafenparkplatz Tiefgarage Valet Underground parking | help_outline | help_outline | help_outline |
check_circle Lit up parking lots
check_circle Parking barrier
check_circle 24 hours staffed
check_circle Nicht eingezäunte Parkplätze
check_circle Legal liability insurance
check_circle Valet Service included
check_circle Vehicle handover at the terminal
check_circle Vehicle acceptance at the terminal
check_circle Insured during transfer
check_circle Vehicle protocol
info Maximum waiting time: : ~00 Min.
info Overpass duration: ~10 Min.
info Distance: 9.3 km
info From 05:00 AM until the last flight
check_circle Vehicle service
check_circle Jump start
Map and route planner – Safely arrive at your destination
---
Newest Reviews for Flughafenparkplatz Tiefgarage Valet
format_quote Jederzeit - immer wieder

Christian - 13.01.2022
format_quote Lief alles gut

Jorge - 10.01.2022
format_quote Das lief so mega toll ab,kann ich nur weiterempfehlen. Es wird auf jeden Fall ein nächstes Mal geben.

Beate - 04.01.2022
Sehr guter Parkplatzservice und Abgabe/Annahme des Fahrzeugs direkt vor der Abflughalle

format_quote Super

William - 23.12.2021
format_quote Die beste Lösung für meine Flugreisen

Stefan - 16.12.2021
format_quote Super freundliches Personal, ob telefonisch oder persönlich, werde ich wieder so buchen!

Frank - 15.12.2021
format_quote bester Service, sehr freundlich, gute Kommunikation

Horst - 08.11.2021
Perfekter und sehr angenehmer Service

format_quote Absolut empfehlenswert.

Eva-Maria - 30.10.2021
Hervorragend !! Exellent !

format_quote Kann und muss man auf jeden Fall wieder machen!!

Frank - 28.10.2021
100% Verified reviews - Real guests!
Only guests which have taken advantage of our service can review it. This guarantees that all our reviews come from real customers. After your return, you will receive an invitation to review our parking service.
Gesamtnote
COM_PLADMIN_NOTE_EXCELLENT
thumb_up
4.9 of 5.0
374 Reviews
Tips by travelers can help you to find the best parking lot Christian

Rated at 13.01.2022
format_quote Jederzeit - immer wieder Jorge

Rated at 10.01.2022
format_quote Lief alles gut Beate

Rated at 04.01.2022
format_quote Das lief so mega toll ab,kann ich nur weiterempfehlen. Es wird auf jeden Fall ein nächstes Mal geben. William
"

Sehr guter Parkplatzservice und Abgabe/Annahme des Fahrzeugs direkt vor der Abflughalle

"

Rated at 23.12.2021
format_quote Super Stefan

Rated at 16.12.2021
format_quote Die beste Lösung für meine Flugreisen Frank

Rated at 15.12.2021
format_quote Super freundliches Personal, ob telefonisch oder persönlich, werde ich wieder so buchen! Horst

Rated at 08.11.2021
format_quote bester Service, sehr freundlich, gute Kommunikation Eva-Maria
"

Perfekter und sehr angenehmer Service

"

Rated at 30.10.2021
format_quote Absolut empfehlenswert. Frank
"

Hervorragend !! Exellent !

"

Rated at 28.10.2021
format_quote Kann und muss man auf jeden Fall wieder machen!! Jennifer

Rated at 27.10.2021
format_quote Hat alles hervorragend geklappt. Ich konnte nach Rücksprache mein Auto sogar eher abgeben, als ursprünglich geplant. Der Mitarbeiter war schon vor Ort als ich vorgefahren bin und alles hat reibungslos funktioniert. Jederzeit wieder! Egbert

Rated at 26.10.2021
format_quote alles perfekt gelaufen Miri

Rated at 24.10.2021
format_quote Gerne wieder Christopher

Rated at 15.10.2021
format_quote Jeder Zeit wieder Bernhard

Rated at 12.10.2021
format_quote Perfekter Service Fadi
"

Alles Top! Sehr empfehlenswert

"

Rated at 07.10.2021
format_quote Wir haben den Parkplatz für 4 Wochen mit Abholservice gebucht. Der Ablauf war wie beschrieben, 10 Minuten haben locker gereicht. Wir waren 30 Minuten früher angekommen und Personal war sehr flexibel. Das Auto genauso sauber erhalten wie es vorher war. Gerne wieder. Doris

Rated at 28.09.2021
format_quote Sehr guter Service. Es war alles perfekt und gut durchorganisiert von der Abgabe bis zur Annahme des KFZ am Terminal Michael

Rated at 28.09.2021
format_quote Sehr gutes Angebot und unkomplizierter Ablauf Hans

Rated at 28.09.2021
format_quote Perfekt Egbert

Rated at 28.09.2021
format_quote Hervorragend! Joachim
"

Reibungsloses Parken ohne Stress

"

Rated at 23.09.2021
format_quote Problemlose Fahrzeugabgabe und Rückgabe, hat alles bestens geklappt, die Mitarbeiter waren sehr freundlich und hilfsbereit. Das nächste Mal gerne wieder. Felix
"

Toller Service, Zeit und Geld gespart!

"

Rated at 21.09.2021
format_quote Keine Parkplatzsuche, keine langen Wege vom Parkhaus zum Gate, zuverlässiger und pünktliches Abholen und Bringen des Fahrzeugs und geringere Parkgebühren als in den Parkhäusern. Einfach tolles Parken. Robert
"

Super Service - jederzeit wieder

"

Rated at 13.09.2021
format_quote Ein entspannter Start in den Urlaub, wir würden es jederzeit wieder so planen. Irene

Rated at 12.09.2021
format_quote Werde es wieder buchen Dr. Jochen

Rated at 10.09.2021
format_quote jederzeit wieder! Horst

Rated at 29.08.2021
format_quote Top Service, immer wieder gerne, Parkplatzbeschreibung kann nicht beurteilt werden, da ich diesen nicht gesehen habe Manfred

Rated at 26.08.2021
format_quote Der Ablauf genau wie angekündigt, schnelle , problemlose Übergabe / Übernahme, keine Wartezeit, Sehr freundlicher junger Mann, Gerne wieder und auf jedenfall empfehlenswert !!!!! Achim

Rated at 21.08.2021
format_quote Super Service, hohe Verlässlichkeit, rundum gelungene Betreuung Heather

Rated at 31.07.2021
format_quote Mark

Rated at 26.07.2021
format_quote Schön wars Simone

Rated at 15.06.2021
format_quote