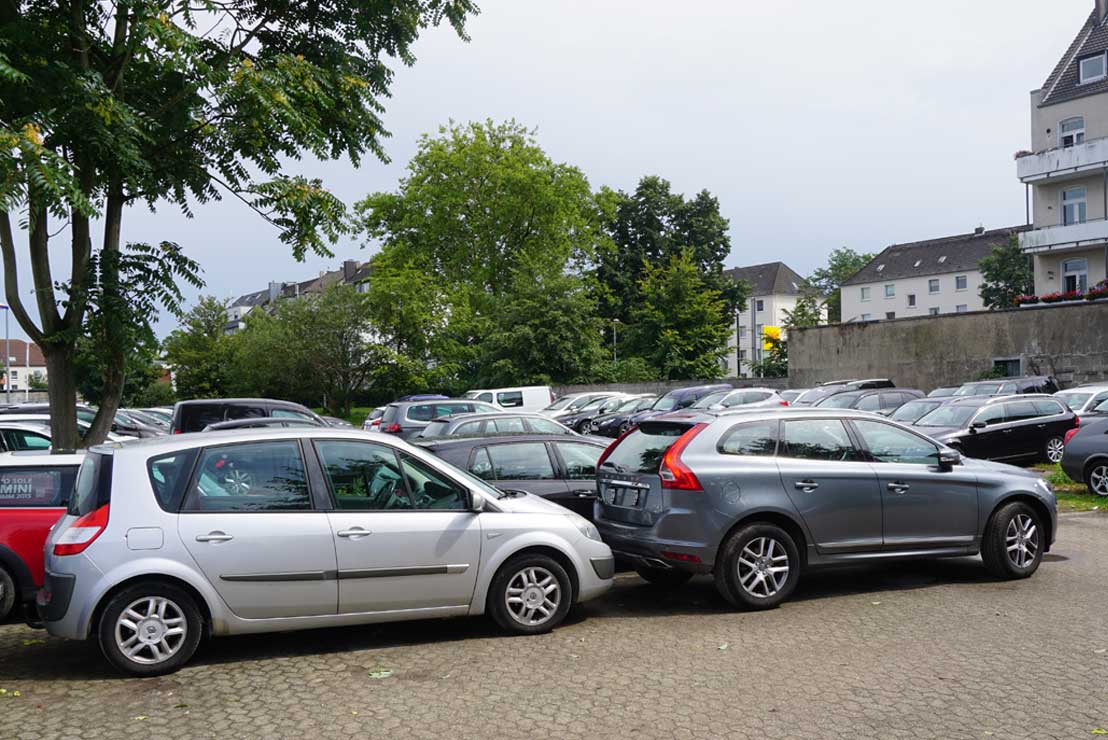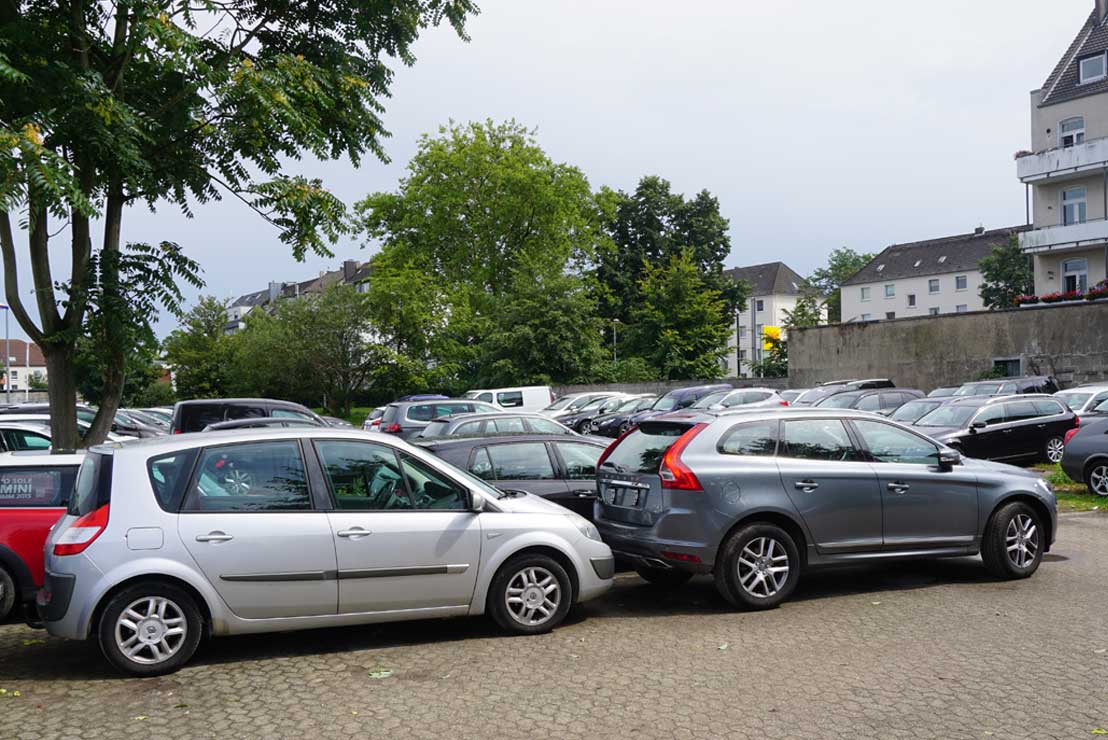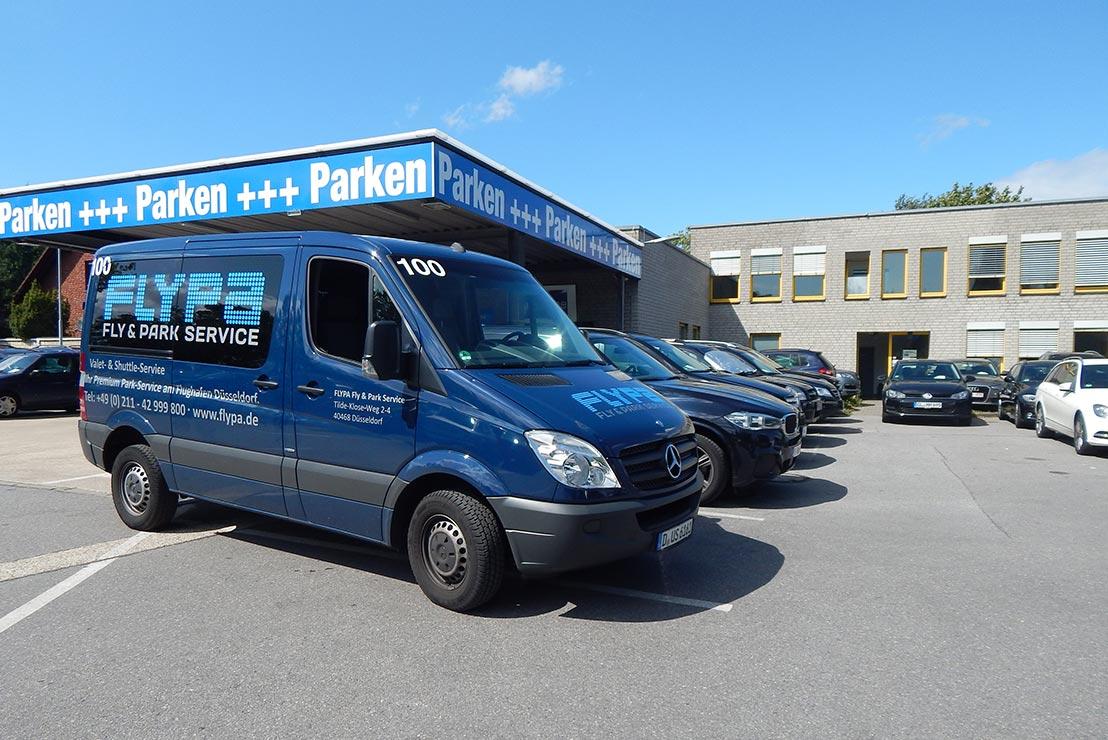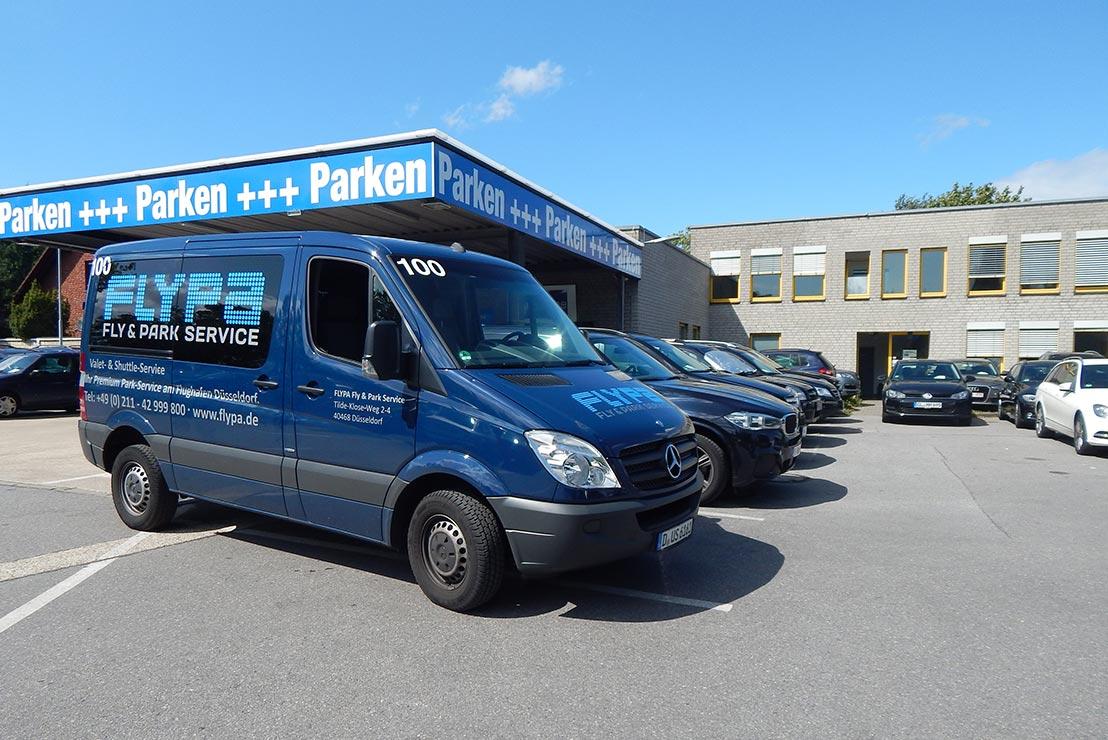 Excellent
thumb_up
4.9

of 5.0
Recommended
people

551

Reviews
Our committment
check

Verified parking lot

check

Real customer reviews

check

Booking confirmation via mail

check

No registration necessary
---
Availability
| Parking lot | Parking duration | Parking fees | Availability |
| --- | --- | --- | --- |
| FLYPA Valet Parking Hardstand parking | help_outline | help_outline | help_outline |
check_circle Lit up parking lots
check_circle Parking barrier
check_circle Closed parking area
check_circle Legal liability insurance
check_circle Valet Service included
check_circle Vehicle handover at the terminal
check_circle Vehicle acceptance at the terminal
check_circle Insured during transfer
check_circle Vehicle protocol
info Maximum waiting time: : ~00 Min.
info Overpass duration: ~07 Min.
info Distance: 6 km
info 24-hours Valet Service
Map and route planner – Safely arrive at your destination
---
Newest Reviews for FLYPA Valet Parking
format_quote Alles toll

Stefan - 04.07.2022
format_quote Fahrzeug ohne Stress übergeben und empfangen. In beiden Fällen 5 min. Wartezeit was mit Kleinkind echt super war. Keine dreckigen Shuttlebuse und insgesamt 1-2h Zeit gespart. Der Preis ist für den

Eduard - 25.06.2022
format_quote Schnelle und zügige Erledigung

Ulrich - 22.06.2022
format_quote Schnelle Abwicklung. Bei Umbuchung mit dem Gutschein keine Probleme gehabt.

Andrea - 20.06.2022
Super Service in hektischer Teit

format_quote Sehr gut

Heinz-Werner - 17.06.2022
Alles bequem und freundlich

format_quote Empfehlenswert

Frank - 16.06.2022
format_quote Jederzeit wieder topp Service vielen Dank dafür

Claudia - 16.06.2022
format_quote Toller Service, gerne wieder

Manfred - 13.06.2022
format_quote Alles Super-kann man nur weiterempfehlen.

Matthias - 09.06.2022
100% Verified reviews - Real guests!
Only guests which have taken advantage of our service can review it. This guarantees that all our reviews come from real customers. After your return, you will receive an invitation to review our parking service.
Gesamtnote
COM_PLADMIN_NOTE_EXCELLENT
thumb_up
4.9 of 5.0
551 Reviews
Tips by travelers can help you to find the best parking lot Stefan

Rated at 04.07.2022
format_quote Alles toll Eduard

Rated at 25.06.2022
format_quote Fahrzeug ohne Stress übergeben und empfangen. In beiden Fällen 5 min. Wartezeit was mit Kleinkind echt super war. Keine dreckigen Shuttlebuse und insgesamt 1-2h Zeit gespart. Der Preis ist für den Service gerecht und die Abläufe sind professionell. Beim nächsten Flug würde ich es genau so machen! Ulrich

Rated at 22.06.2022
format_quote Schnelle und zügige Erledigung Andrea

Rated at 20.06.2022
format_quote Schnelle Abwicklung. Bei Umbuchung mit dem Gutschein keine Probleme gehabt. Heinz-Werner
"

Super Service in hektischer Teit

"

Rated at 17.06.2022
format_quote Sehr gut Frank
"

Alles bequem und freundlich

"

Rated at 16.06.2022
format_quote Empfehlenswert Claudia

Rated at 16.06.2022
format_quote Jederzeit wieder topp Service vielen Dank dafür Manfred

Rated at 13.06.2022
format_quote Toller Service, gerne wieder Matthias

Rated at 09.06.2022
format_quote Alles Super-kann man nur weiterempfehlen. Kornelius

Rated at 08.06.2022
format_quote Optimal Matthias

Rated at 30.05.2022
format_quote Alles Perfekt Wolfgang

Rated at 23.05.2022
format_quote Würden wir immer wieder machen.Gute pünktliche Abwicklung Christian
"

Top Service! Immer wieder gerne.

"

Rated at 23.05.2022
format_quote 3te Mal jetzt den Service in Anspruch genommen, alles perfekt, kann man nur empfehlen, gerne jederzeit wieder Hans Bodo
"

Parkplatzsuche vermeiden

"

Rated at 20.05.2022
format_quote Vollauf zufrieden Kornelius

Rated at 17.05.2022
format_quote Gut Steffen

Rated at 11.05.2022
format_quote Bei Abreise erst 10min. vor erreichen des Flughafen einen Treffpunkt genannt bekommen. Sollte schon vor Abfahrt geklärt sein. Ulrich

Rated at 10.05.2022
format_quote Gerne wieder Tanja

Rated at 30.04.2022
format_quote Unser Fahrzeug wurde am Terminal abgeholt und auch wieder zurück gebracht. Wir würden das jederzeit wieder so machen. Ralf

Rated at 25.04.2022
format_quote Super Service Robert
"

Parken ohne Parkplatzsuche

"

Rated at 23.04.2022
format_quote Vollkommende Zufriedenheit Herbert

Rated at 22.04.2022
format_quote Der Abhol- und Bringservice des Fahrzeugs war tadellos. Maurice

Rated at 21.04.2022
format_quote Super Service Jürgen

Rated at 11.04.2022
format_quote Meine anfänglichen Bedenken wurden restlos ausgeräumt. Werde Ihren Service auf jeden Fall weiterempfehlen. Michael

Rated at 10.04.2022
format_quote Valet Parken sehr komfortabel, ggf. besserer Nachweis, dass die Mitarbeiter zur Firma gehören und ggf Fotos vom angenommenen Fahrzeug per Mail nach Annahme teilen. Susanne
"

Optimale Parkmöglichkeit

"

Rated at 09.04.2022
format_quote Sehr gut, unkompliziert und kundenfreunlich Muna
"

Valet parken war sehr gut

"

Rated at 30.03.2022
format_quote Valet parken hat super geklappt Marion

Rated at 28.03.2022
format_quote Wer es liebt, entspannt zu reisen, sollte diesen Service nutzen! Wir sind begeistert ? Gabriele
"

Komfortabel Parkplätze

"

Rated at 24.03.2022
format_quote Schon oft gebucht, immer wieder gerne ARMIN

Rated at 23.03.2022
format_quote Alles in Allem eine hervorragende Möglichkeit, das Fahrzeug bei Abwesenheit zu parken. nicole
"

Alles bestens, gerne wieder

"

Rated at 16.03.2022
format_quote Top service