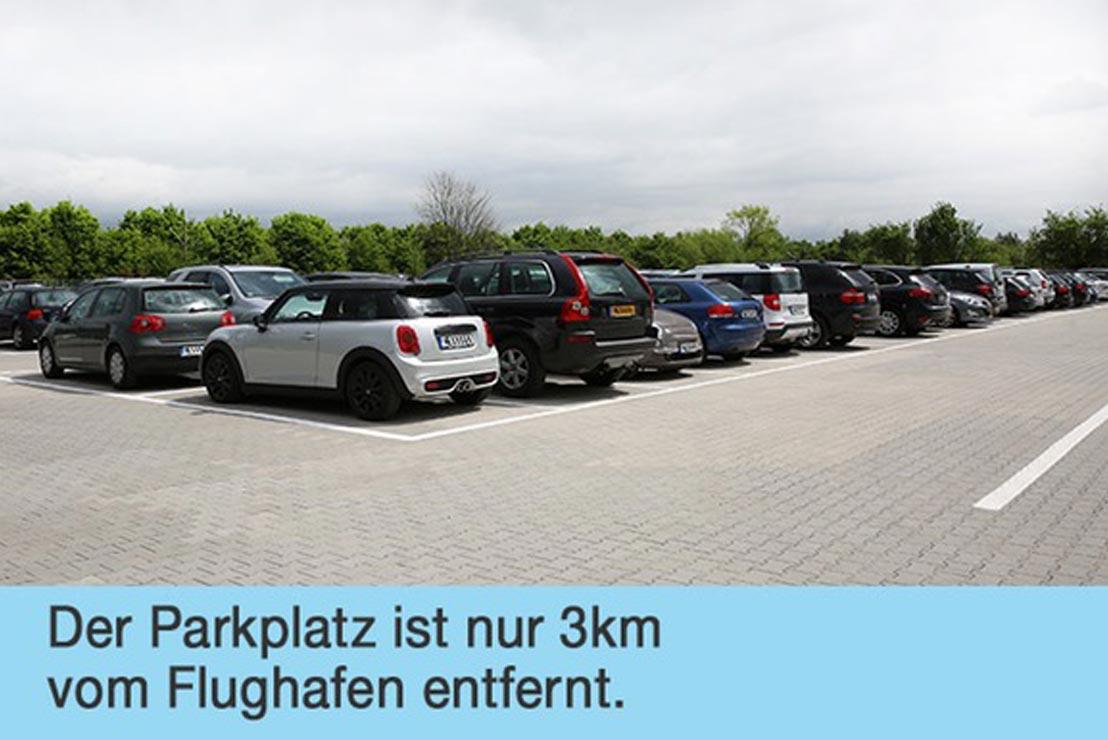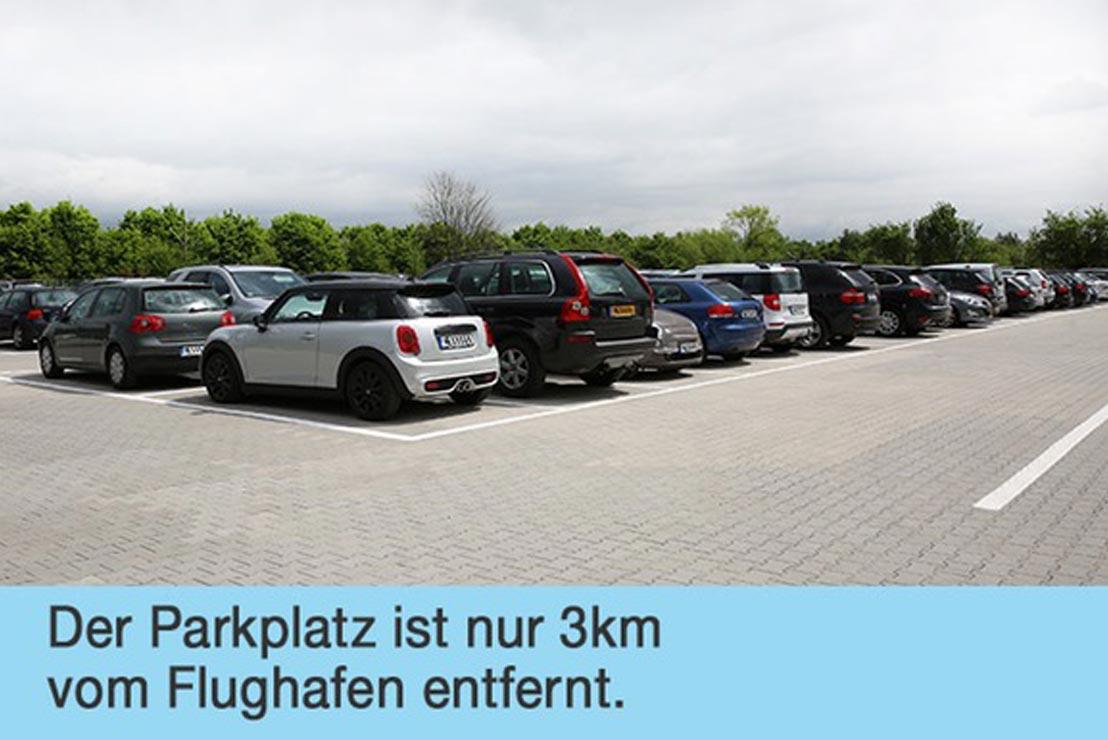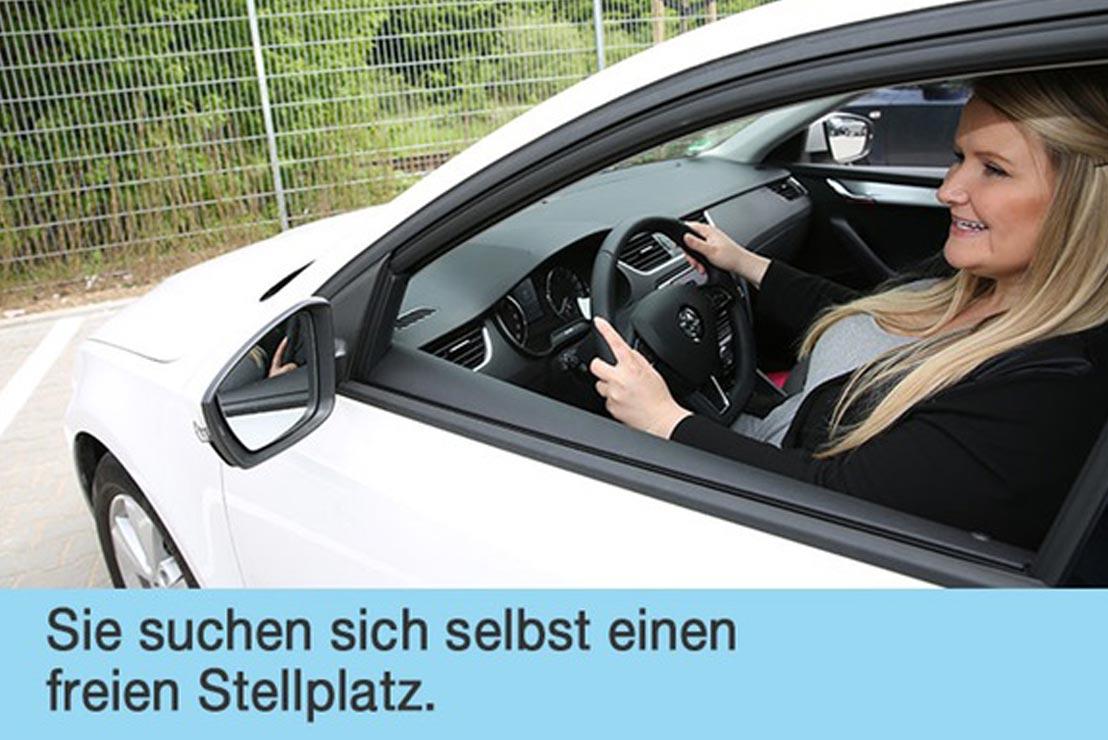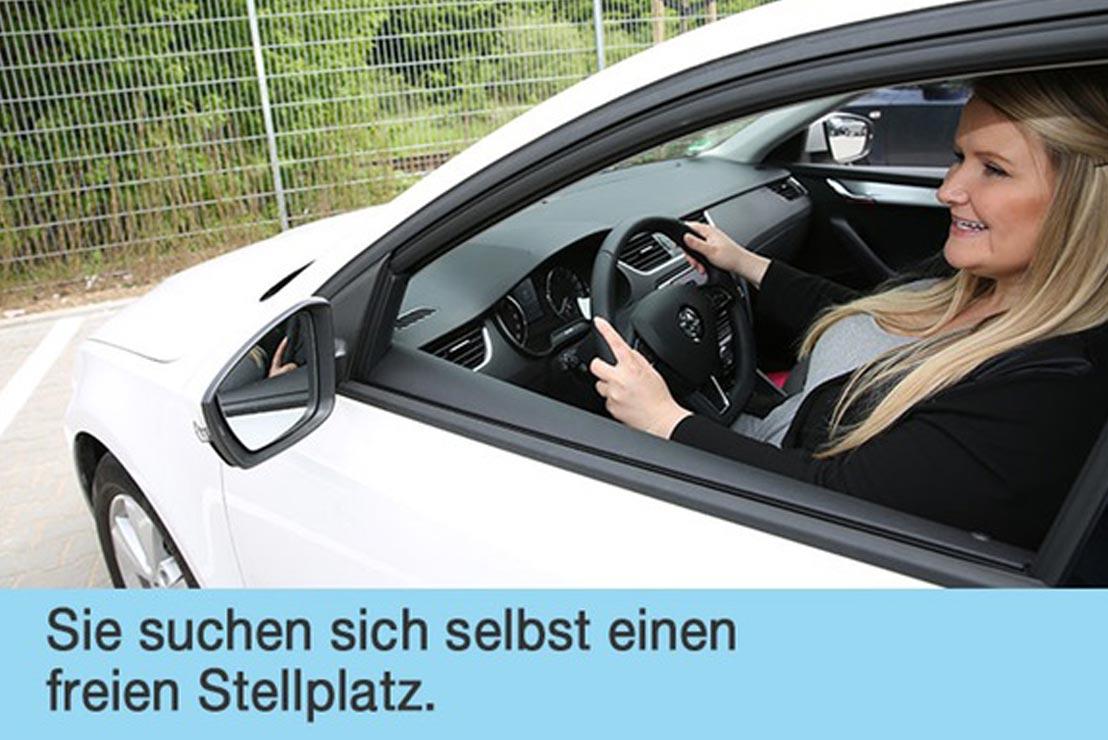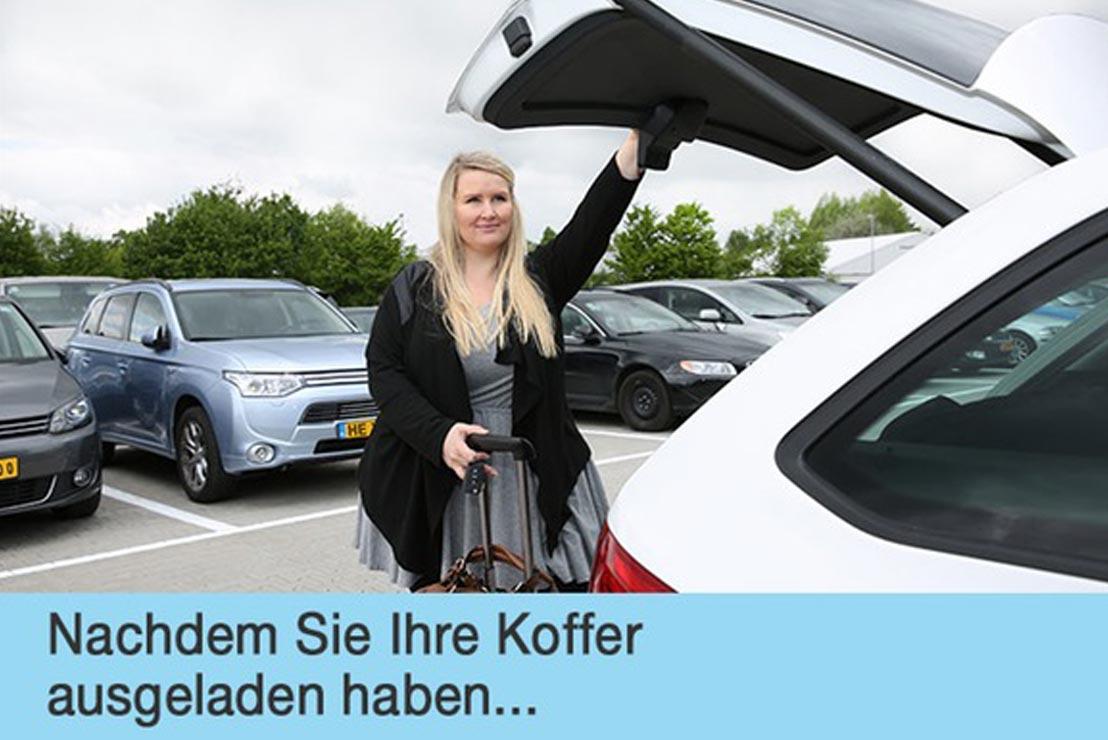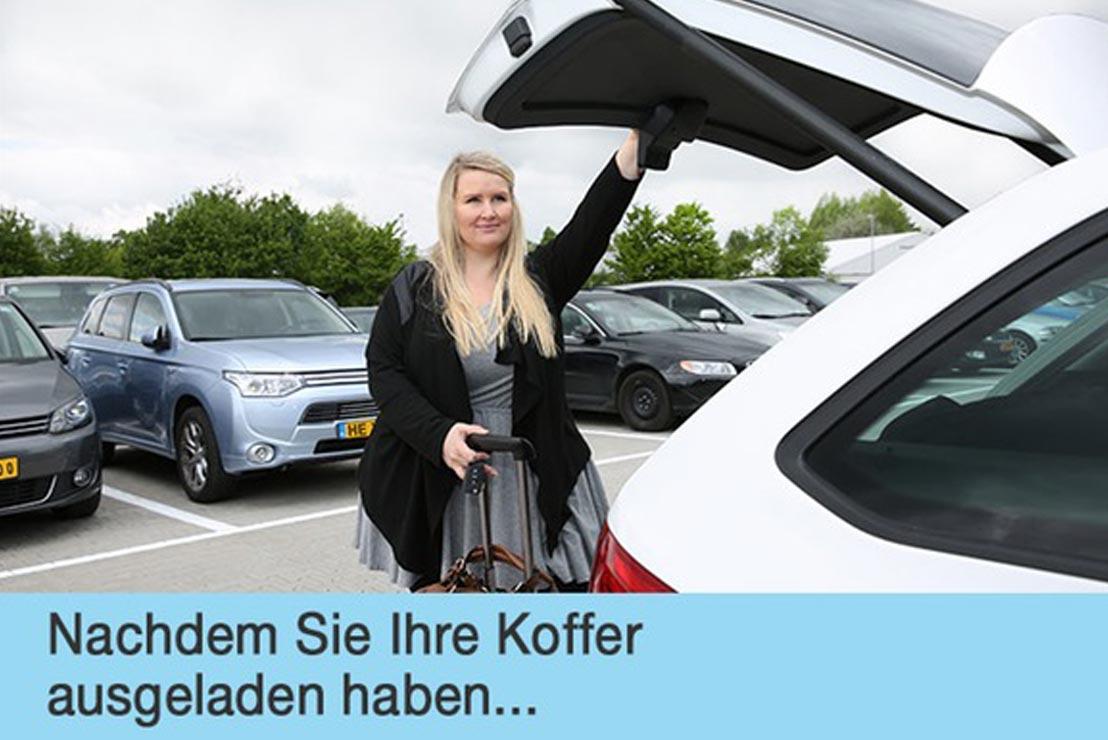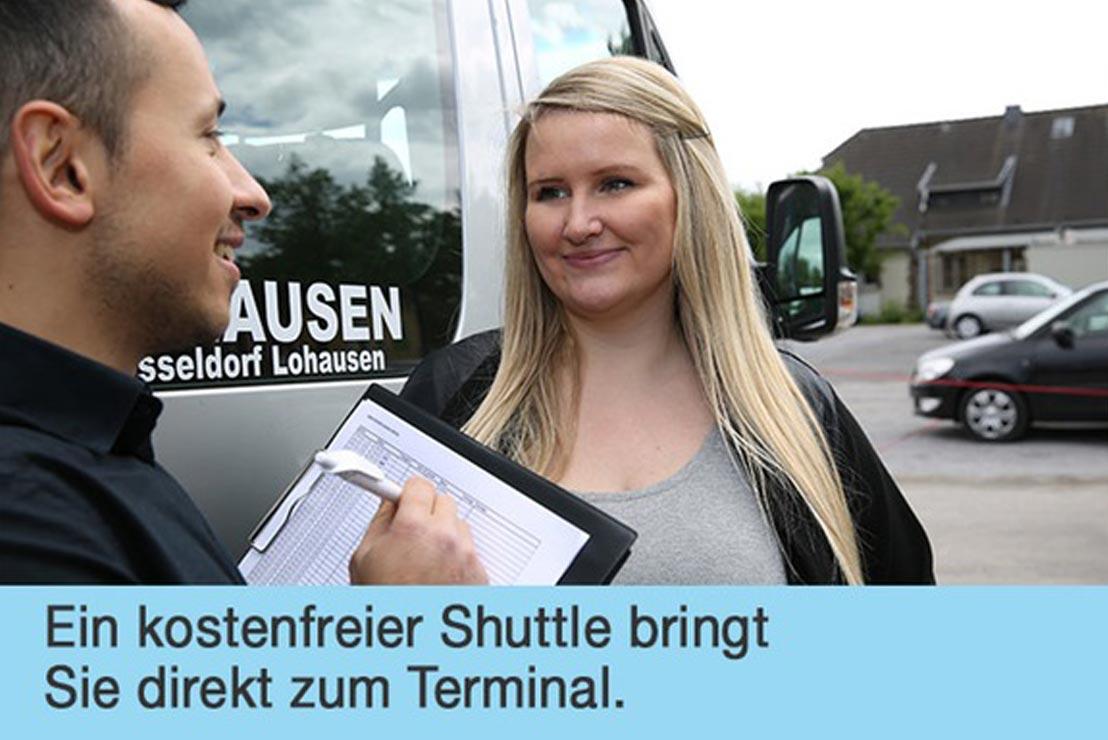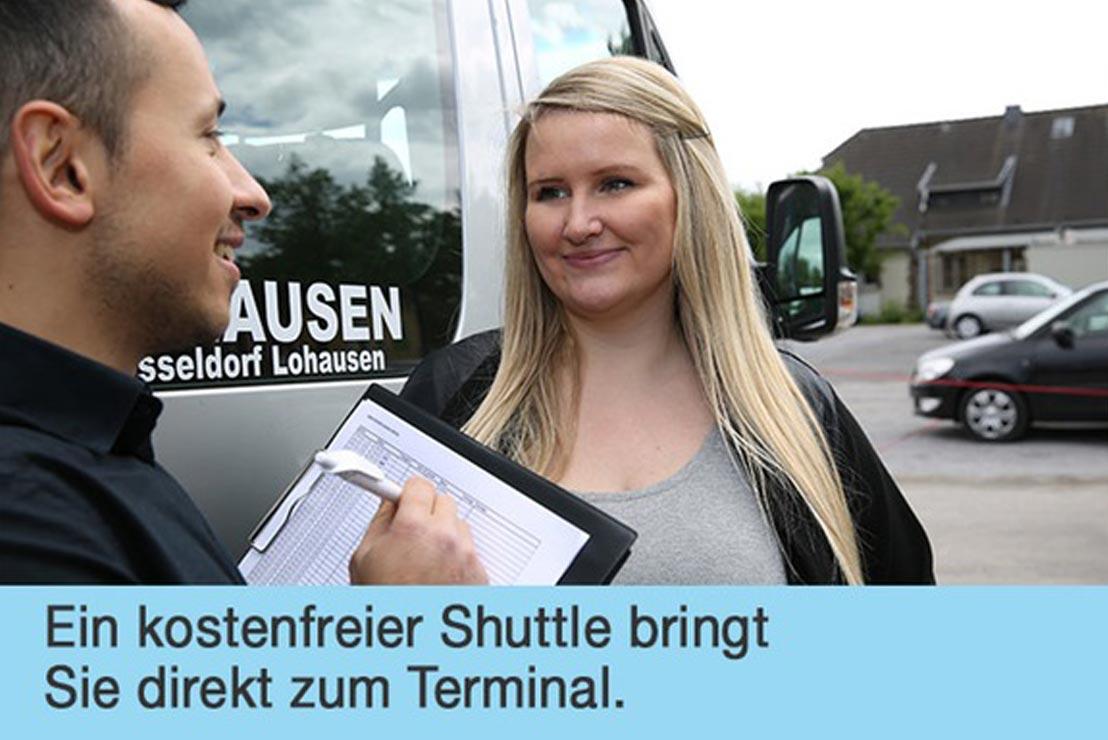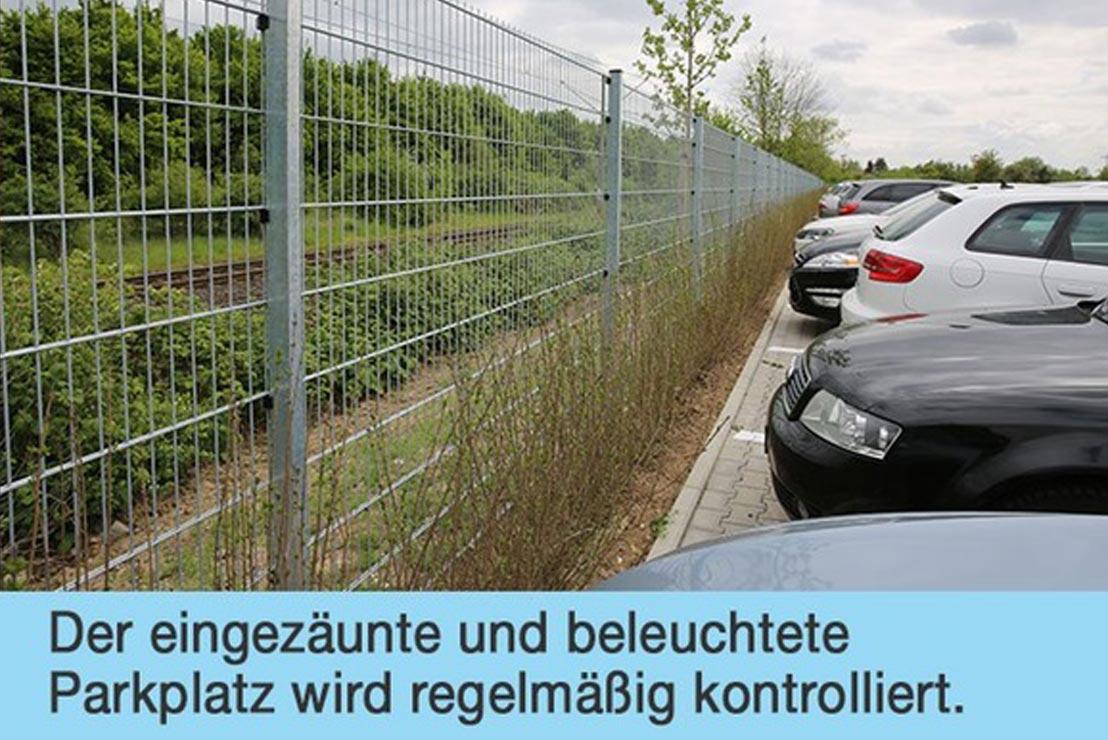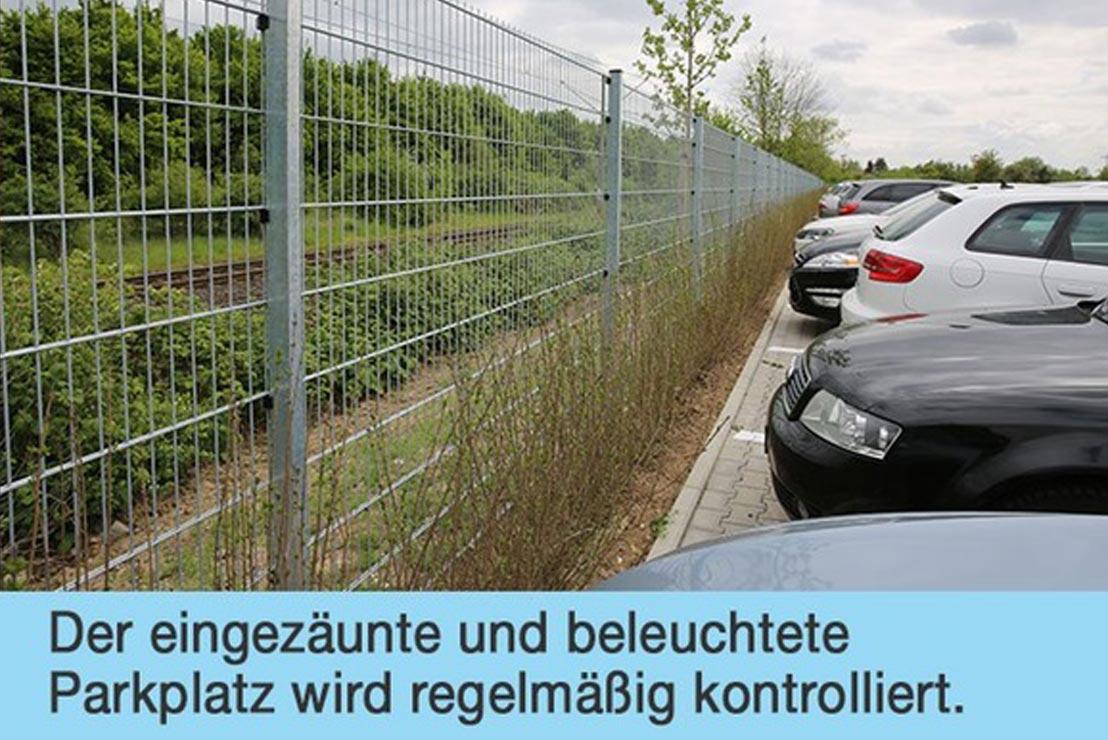 Very good
thumb_up
4.3

of 5.0
Recommended
people

53

Reviews
Our committment
check

Money-Back Guarantee

check

Verified parking lot

check

Real customer reviews

check

Booking confirmation via mail

check

No registration necessary
---
Availability
| Parking lot | Parking duration | Parking fees | Availability |
| --- | --- | --- | --- |
| Airparks Düsseldorf Außenparkplatz Hardstand parking | help_outline | help_outline | help_outline |
check_circle Lit up parking lots
check_circle 24 hours staffed
check_circle Eingezäunte Parkplätze
check_circle Legal liability insurance
check_circle Shuttle Service included
check_circle For up to 4 travelers included
check_circle Child safety seat available
info Maximum waiting time: : ~15 Min.
info Transfer Duration: ~05 min.
info Distance: 3.9 km
info 24-hours Shuttle Service
Map and route planner – Safely arrive at your destination
---
Newest Reviews for Airparks Düsseldorf Außenparkplatz
format_quote Gerne wieder

Liane - 24.05.2018
gute Möglichkeit der Untterstellung.

format_quote Bei uns lief alles schnell und unkompliziert.

Anke - 23.05.2018
Sehr gute Parkmöglichkeit und nettes Personal

format_quote Gut Parkplatz zu guten Preisen, sehr zu empfehlen

Kerstin - 22.05.2018
format_quote Gute Lage, schneller Transfer

Kai - 22.05.2018
format_quote Zufrieden, reibungsloser Ablauf

Caterina - 18.05.2018
Alles hat bestens funktioniert

format_quote Von der Ankunft bis zum Abholen hat ales sehr gut funktioniert mit sehr kurzen Wartezeiten

Andreas - 15.05.2018
format_quote Stammkunde

Christian - 07.05.2018
format_quote Preis wurde zwischendurch erhöht. Das geht gar nicht!

Willem - 06.05.2018
Flughafen nur wenige Minuten entfernt, perfektes Timing

format_quote Perfekt! Empfehlenswert!

Anja - 29.04.2018
100% Verified reviews - Real guests!
Only guests which have taken advantage of our service can review it. This guarantees that all our reviews come from real customers. After your return, you will receive an invitation to review our parking service.
Gesamtnote
COM_PLADMIN_NOTE_VERY_GOOD
thumb_up
4.3 of 5.0
53 Reviews
Tips by travelers can help you to find the best parking lot Liane

Rated at 24.05.2018
format_quote Gerne wieder Anke
"

gute Möglichkeit der Untterstellung.

"

Rated at 23.05.2018
format_quote Bei uns lief alles schnell und unkompliziert. Kerstin
"

Sehr gute Parkmöglichkeit und nettes Personal

"

Rated at 22.05.2018
format_quote Gut Parkplatz zu guten Preisen, sehr zu empfehlen Kai

Rated at 22.05.2018
format_quote Gute Lage, schneller Transfer Caterina

Rated at 18.05.2018
format_quote Zufrieden, reibungsloser Ablauf Andreas
"

Alles hat bestens funktioniert

"

Rated at 15.05.2018
format_quote Von der Ankunft bis zum Abholen hat ales sehr gut funktioniert mit sehr kurzen Wartezeiten Christian
"

Sehr nette Mitarbeiter

"

Rated at 07.05.2018
format_quote Stammkunde Willem
"

Sehr gut und freundlich

"

Rated at 06.05.2018
format_quote Preis wurde zwischendurch erhöht. Das geht gar nicht! Anja
"

Flughafen nur wenige Minuten entfernt, perfektes Timing

"

Rated at 29.04.2018
format_quote Perfekt! Empfehlenswert! Arno
"

Parken in der Niederrheinstraße

"

Rated at 29.04.2018
format_quote Mehraufwand gegenüber Parkhaus wird durch Minderpreis ausgeglichen Rolf

Rated at 27.04.2018
format_quote super Gertrud

Rated at 26.04.2018
format_quote Falls vor dem Abflug keine Übernachtung benötigt wird, dann ist das Parken auf diesem Parkplatz eine absolut gute Sache. Joachim

Rated at 25.04.2018
format_quote Wir kommen wieder Dieter

Rated at 22.04.2018
format_quote Würden wir immer wieder hier parken und buchen. Antonio
"

Sehr gut parkmöglichkeit

"

Rated at 17.04.2018
format_quote Ich komme wieder Ansgar
"

Gute Alternative zum teuren Parkhaus/ zur Zugfahrt

"

Rated at 16.04.2018
format_quote Eine gute Alternative zu einem angemessenen Preis-Leistungs-Verhältnis! Ralf

Rated at 15.04.2018
format_quote Besser geht es nicht Monika

Rated at 13.04.2018
format_quote Unkomplizierte Abstellmöglichkeit fürs Auto Peter
"

Gute Parkmöglichkeiten

"

Rated at 12.04.2018
format_quote War alles zufriedenstellend. birgit

Rated at 09.04.2018
format_quote Gute Anbindung und einfache Abwicklung Karin
"

Sauberer gepflasterter Platz

"

Rated at 21.03.2018
format_quote Gerne wieder Anke
"

gut zu finden, nicht weit vom Airport

"

Rated at 19.03.2018
format_quote insgesamt war alles gut aNDRÉ

Rated at 10.03.2018
format_quote Als günstige alternative bedingt weiterzuempfehlen Simon

Rated at 08.03.2018
format_quote Jeder Zeit wieder Karin

Rated at 07.03.2018
format_quote Wir würden immer wieder diesen Parkplatz buchen Peter

Rated at 25.02.2018
format_quote Diesen Parkplatz kann ich empfehlen und den freundlichen Service. Detlef
"

Reibungslose und freundliche Abwicklung

"

Rated at 20.02.2018
format_quote Gerne wieder Sven

Rated at 01.01.2018
format_quote Empfehle Ich gerne weiter Klaus-Peter

Rated at 29.12.2017
format_quote Klasse!! Immer wieder Marion

Rated at 28.12.2017
format_quote Mehr Sicherheit bei der Fahrt wäre wünschenswert. Keine Sicherung von Kindern, zu viele Menschen im Auto, nicht angeschnallt.